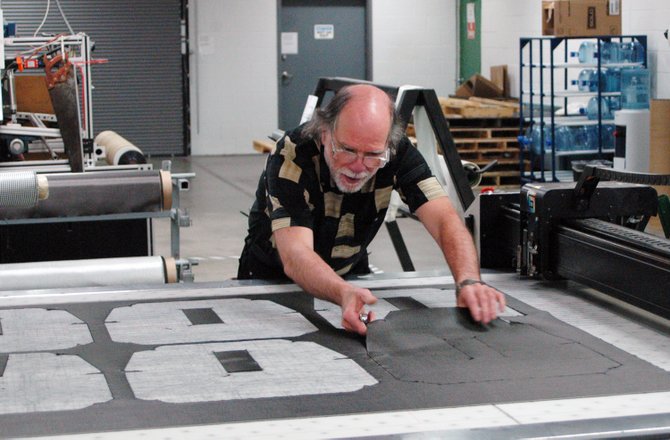 continued — "It's nice to see that the company is continuing to grow and that we are not going away," Production Manager Bob Egglefield, who has been with the company for 16 years, said.
Job fair
As part of taking the next step, General Composites is hosting a job fair and open house Thursday, May 31, from 2 until 6 p.m. at their plant, located in the Willsboro Industrial Park.
"GCI is here and is very much committed to the community," Allott said.
"We want to get people in here and aware of what we are doing," Egglefield said.
The job fair and open house is a chance for people to see what GCI does and produces, which is more than what some may believe.
"A lot of people still think that we make kayaks, which we actually don't," Allison Whalen said. "We make paddles for a kayak, though."
"We are really a manufacturer of composite, component parts for other companies," Lane said. "We work with people who have a product and are looking for a replacement to metal."
Allott said that one area that has been growing recently is automotive and aerospace.
"As gas prices go up, companies are looking for lighter materials that will help with fuel efficiency," he said.
"We deal with everything from recreational to medical and do deal with some automotive," Lane said.
Lane said that the fact that they are on the forefront of composite technology means that they are not only a manufacturing entity, but also a design entity.
"We are using a multitude of materials to come up with what is needed to accomplish the job," Lane said. "We can go from the design room and the base fabric all the way to the finished part."
Items that GCI currently work on include backpack frame sheets for packs used by U.S. Special Forces; medical external fixation devices and surgical targeting devices; snowboard bindings, custom bicycle forks and golf club heads; as well as automotive inlet ducts.
For more information on General Composites or its May 31 job fair, visit the website www.generalcomposites.com.
Vote on this Story by clicking on the Icon