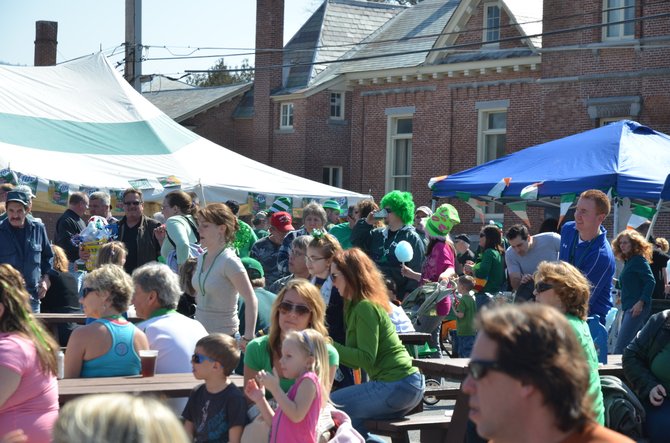 LAKE GEORGE — Although there's a lot of action occurring in Lake George during Americade's annual week-long reign in Lake George Village, the roster of events just got more crowded.
Monday May 21, the village board approved a four-day "Bikes & Barbecue" enterprise to be held during Americade in the parking lot serving Duffy's Tavern and Bella's Deli. The Americade motorcycle rally annually attracts as many as 50,000 people to Lake George.
Event organizer Linda Duffy said that Bikes & Barbecue would be held daily on Wednesday June 6 through Saturday June 9 — the final four days of Americade 2012.
The four daily outdoor events, set for noon to 9 p.m., are to feature live music, food and beer.
The board unanimously approved the concept after hearing that the area for the barbecue would be fenced in, and participants wouldn't be able to take alcoholic beverages onto nearby public sidewalks. Duffy predicted the event would be popular, particularly because a local beer distributor would be conducting the giveaway of a new Harley-Davidson motorcycle in conjunction with the venue.
Other events approved this week by the village board were the annual Lake George tow truck show — to be held June 1 through 3 at the Fort William Henry Resort, and St. James Episcopal Church's Hot Rod Happening on July 28 and 29 in the Beach Road parking lot. The church is renting to lot from the Village, but the board voted to award the church a $1,000 grant of village Occupancy tax funds.
The Lake George Music Festival, which draws hundreds of people from across the nation, also received a $1,000 grant.
The board also voted to allow Amanda's House charity to park cars, as a fundraiser, in the OTB parking lot during both the Adirondack Nationals Car Show and Americade rally.
(Continued on Next Page)
Prev Next
Vote on this Story by clicking on the Icon