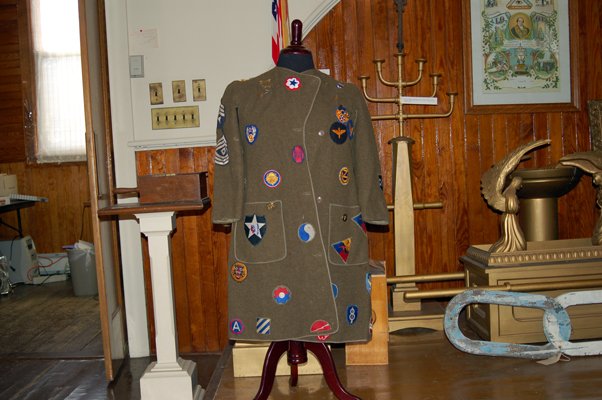 On the left sleeve, there is a patch for the 99th Division, and on the right sleeve, there are Army Tech 4 stripes and E8 First Sergeant stripes.
On the left shoulder, there is a golden oak leaf insignia for major. On the right shoulder, there is another golden oak leaf insignia for major plus a silver oak leaf insignia for a lieutenant colonel.
Front
The three pins on the top right of the liner indicate infantry officer, cavalry officer and quartermaster, according to Waterston.
Patches: Army Service Force, 9th Air Force, 30th Division, Army 35th Division, 2nd Division, Enlisted Army Medal, 29th Division, Destroyer Forces, 9th Division, 3rd Army, 3rd Division, 78th Division, Patriots of Liberty (French medal), 8th Army Air Force, Army Air Force, Officer Army Air Force, 102nd Division, 2nd Armor Division, Enlisted Medal w/US, 7th Armor Division, XIX Corps Third Design, 8th Division, 1st Allied Airborne, 9th Army, and 84th Division.
Back
Patches: 69th Division, 94th Division, 63rd Division, Army Air Force, 75th Division, Airborne, Army Amphibian, 17th Airborne Division, Enlisted Glider, 1st Division - "Big Red One," 3rd Service Command, and 4th Service Command.
Vote on this Story by clicking on the Icon