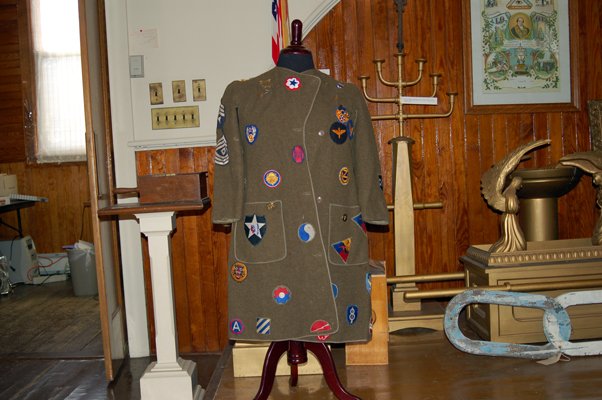 A wool coat liner donated to the Johnsburg Historical Society in 2011 by Helene Goodman helps tell the story of an Army nurse.
The coat liner belonged to Goodman's former neighbor on the Old River Road in North Creek, Margaret Fitzgerald, who was an Army nurse during World War II. The lining was probably used in cold weather, and it is covered with patches, pins and awards.
Fitzgerald was a nurse in the Army Nurse Corps. She collected military patches everywhere she went, eventually sewing them on the coat liner, which was hers.
Fitzgerald gave the coat liner to Goodman's daughter, Kristen, in the early 1980s because she and her brother, Patrick, were interested in the military. That was before Fitzgerald moved to Glens Falls. Both children eventually enlisted in the U.S. Air Force: Kristen joined ROTC at RPI and retired from the Air Force after 20 years; and Patrick attended the Air Force Academy and retired from the Air Force after 24 years.
Unfortunately, we don't have any stories about Fitzgerald's days of service. She was unable to be interviewed; Goodman said she has Alzheimer's disease and currently lives at an assisted living facility in Queensbury.
More than 59,000 American nurses served in the Army Nurse Corps during World War II, according to a brochure titled "The Army Nurse Corps," prepared at the U.S. Army Center of Military History by Judith A. Bellafaire. When the U.S. entered the war, there were only 7,000 nurses in the Army Nurse Corps. Six months later, there were 12,000.
At first, there was no "boot camp" for nurses. In July 1943, newly commissioned Army nurses were required to attend a formal four-week training course. In a little over two years, about 27,330 nurses graduated from 15 Army training centers.
The patches
Johnsburg Historical Society members didn't know much about the many patches covering the coat liner, so they turned to a local veteran for help: American Legion Post 629 commander Terry Waterston, who identified the many patches Fitzgerald had collected during her years of service.
(Continued on Next Page)
Prev Next
Vote on this Story by clicking on the Icon