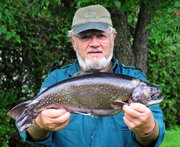 In 1624, a Jesuit priest traveling through the Dismal Wilderness of the Adirondack region claimed his experience with the demons of the north was, "The worst martyrdom I have ever suffered in this country."
Although customs have certainly changed over the past 350 years, blackflies continue to haunt the vast howling wilderness of the North Woods. In many locations the blackflies have been particularly troublesome this season, and yet in other areas they have been seemingly non-existant. The little black devils have not been as charming as usual, but nobody seems to be complaining.
While the bad bugs have not proven to be as troublesome as usual, the usual mayfly hatches have been prolific this season, and trout have been responsive, particularly on the West Branch of the Ausable River, where a host of anglers recently enjoyed a friendly and gentlemanly competition while participating in the 13th Annual Two Fly Contest this past weekend.
This popular annual event matches anglers from across the northeast with a fishing partner and they work the river in tandem. Awards are based on the total length of all fish taken over the course of two days of fishing. The anglers measure and account for their own catch on an honor system. It is a gentleman's agreement in a gentlemanly pursuit, and no victory is without honor.
Their total catch is unlimited of course, as there is a requirement that all fish must be released unharmed after being measured. However, the angler's flies are not unlimited, which makes their knots all the more important.
Each angler begins the event with just two chosen flies in their possession, which they can fish wherever and whenever they like, from sunrise to sunset. If the two flies are lost on a fish, or a snag or even to a poor knot, the angler is out of the competition.

Joe Hackett is a guide and sportsman residing in Ray Brook. Contact him at brookside18@adelphia.net.
(Continued on Next Page)
Prev Next
Vote on this Story by clicking on the Icon