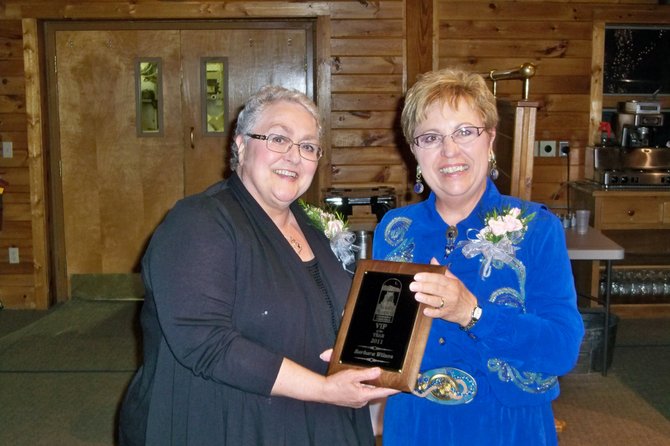 CHESTERTOWN — Barbara Wilson, a woman who devoted years of her life enriching the lives of others in northern Warren County, passed away Friday May 18 at Glens Falls Hospital after fighting cancer for about three years.
Whether it was establishing history or cultural programs, or organizing fundraisers, Wilson worked with dedication to make life in the North Country more fulfilling for all, her friends and associates recalled this week.
For her work, she was honored in 2011 as North Warren Chamber of Commerce's V.I.P. of the Year.
Alma Alvarez, Director of the Town of Chester Library, observed that Wilson launched "History Alive," a series of presentations and events over a weekend in 2005 celebrating veterans, and she organized the 2007 "Stitches in Time" quilt exhibit held at the North Warren High School. The History Alive concept was awarded as Program of the Year for 2005 by the Southern Adirondack Library System.
"Barbara Wilson was one of the most prominent cultural influences in the area," Alvarez said. "She was always a tremendous help in projects, volunteering to do menial day-to-day work."
Wilson delivered diligence with enthusiasm, Alvarez added.
"Barbara was always very cheery, organized and super-enthusiastic," Alvarez said.
For years, Wilson served as co-chair of the Friends of Chester Library, sharing the duties with her counterpart Mary Lou Smith.
Smith said May 23 that Wilson was innovative in formulating new ideas for the Friends group in raising money for the Chester Library.
"I was so impressed with her vigor, creativity and wit," Smith said, recalling the enthusiasm with which Wilson tackled the History Alive programming. "Barbara was so talented."
Chester Supervisor Fred Monroe recalled how many years ago, Wilson had worked hard in community theater, particularly on a play in which he was an actor.
"Barbara was very involved, dedicated and hardworking," he said. "She was great to work with, and you could always count on her to help."
(Continued on Next Page)
Prev Next
Vote on this Story by clicking on the Icon