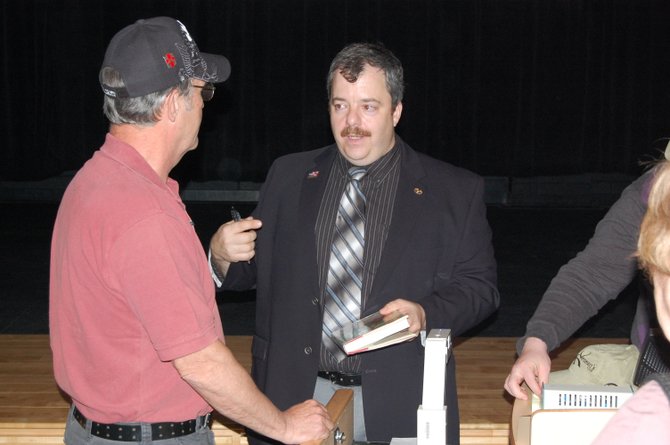 A medic with the infantry, Middleton was mobilized as part of the Vermont Army National Guard's Task Force Saber and shipped to Ramadi, Iraq in 2005.
Middleton showed those gathered a slide show of some of his experiences in Iraq.
The pictures showed soldiers smiling, handing out candy to children, engaging in combat, and experiencing other aspects of war.
The slide show started with the greeting "Assalamu alaikum," a common greeting among Muslims that translates to "Peace be with you."
Middleton recalled sitting under sniper threat one night while each soldier carried one magazine of ammunition. For some, this was their last night in Iraq, and despite the threat, one pulled out a guitar and treated his fellow soldiers to a song.
The sound of gunfire heard through part of the slide show was from a battle Middleton experienced that another soldier recorded.
"It was one hell of a night," Middleton said. "A lot of those sounds were mine, and a lot of them found their mark."
A prayer before a gunfight kept Middleton calm.
He also recalled walking around — with a pistol strapped to one leg and a medic's bag to the other — with a pocket full of candy to distribute to Iraqi children.
Middleton returned home in 2006 to discover that the media failed to report much of what occurred in Iraq.
He wrote "Saber's Edge" with no intention of publishing it.
It was more of a healing way to personally record history, he said.
"But I felt that story needed to be told, so I submitted what I had written."
"Saber's Edge" was published in 2009.
"You'll find in the pages of 'Saber's Edge' a basic respect for the sanctity of human life," Middleton said.
Middleton retired from the Vermont Army National Guard after 24 years of service, as well as from the fire department, and is now working as a Nurse Case Manager with the Vermont Army National Guard's Office of the State Surgeon.
"I now work to help soldiers as they return from war," he said.
Clinton Community College has between 50 and 80 veterans attending classes there.
Middleton recommended that people give them space, but not ignore them.
"It's not that soldier's fault they think differently or feel differently," he said. "It is a product of their experience."
Vote on this Story by clicking on the Icon