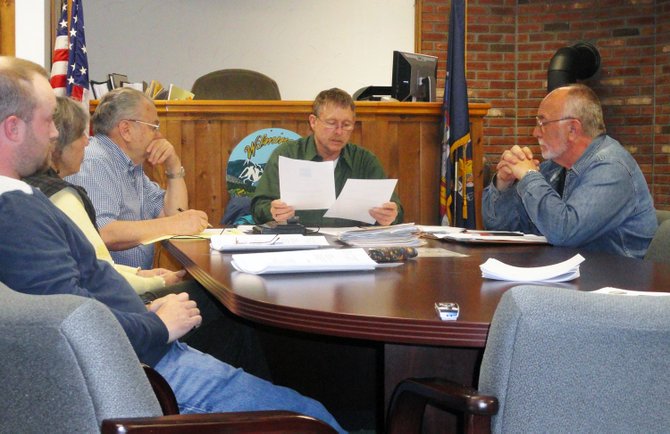 continued — A 2005 letter from the engineer who worked on the dam, Frank Christie, states, "The main reason the gate is not bigger is because of cost."
"I pointed out that the new gate will draw the lake level down under most circumstances but it would not draw down during periods of high water," Christie wrote. "To provide a gate that could draw down the lake level during extreme river flows would have cost an additional $75,000 to $100,000."
The town paid for the project using a $155,000 20-year bond and about the same amount of grant money. The project cost about $300,000.
"There was no reason for that to happen, and the explanation I was given from my predecessor (Jeanne Ashworth) was that they were doing it to save money," Preston remarked at the May 8 meeting. "Well, in the long run it cost, because it has never functioned correctly."
The supervisor said the town was awarded money from FEMA to do post-Irene repairs to the dam.
"If we were able to lower the water the way we should be, it would be a couple week job, but because the gate is undersized, we're struggling, playing the game with the weather, hoping we can get this done. Obviously, if we don't have this done by Memorial Day, people are going to be upset with the town board. So, it's a frustrating situation, and it was needless."
Reached by phone on May 14, Preston said, "I'm not going to say that some type of repairs didn't need to be done (a decade ago), but they took out two larger gates and put in one smaller gate and we've had nothing but trouble ever since. It's been a constant, ongoing problem."
Former supervisor Jeanne Ashworth said, "We had a competent engineer and we had faith in him — he was about the best dam engineer that we could find. I know there has been a lot of controversy about the size of the gate, because it's a lot smaller than the original design. I'm not sure why the repair was designed the way it was. I said, 'Is this four-foot gate going to be OK?' and he said, 'I know this river; this is going to be adequate.'''
Vote on this Story by clicking on the Icon