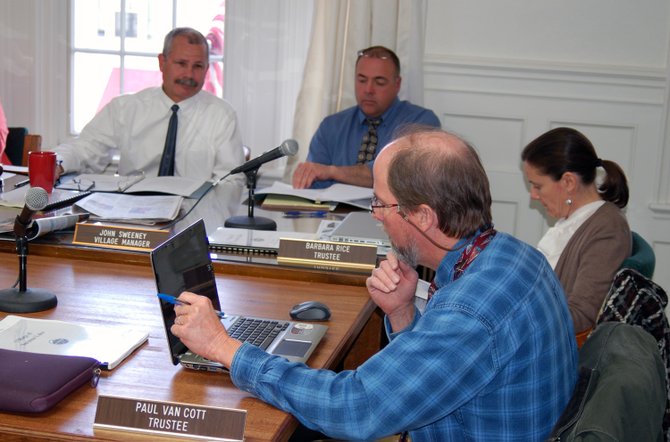 continued — "I think it's a really important part of branding ourselves and 'selling' the assets we have," Evans said, adding that one of the places he would like to add signage is the train station.
"That's the most glaring omission we have right now," Evans said of the train station. "So imagine a big sign that has a map, businesses and other attractions listed on it, and then all of the subsequent signage that directs people from the train station to the different attractions."
The village would still need to raise money to manufacture the signs, and those costs could be defrayed by an adopt-a-sign program, according to Evans.
Van Cott and Rice both voiced their approval for the wayfinding plan and said it was worth the investment.
"If we don't do that, we're losing," Rice said. "I think an integrated conceptual plan that brings us all together with signage and branding is absolutely imperative. We're going to have to tackle it."
Finance Committee
Saranac Lake Village Board members May 14 created a Finance Committee, comprised of the village manager (John Sweeney), village treasurer (Paul Allis) and two trustees (Tom Catillaz and Paul Van Cott).
The committee will oversee the finances of the village by monitoring current budget conditions, ascertaining emerging trends throughout the fiscal year, and researching and developing suggested structural changes that will enable the village to adhere to the state's 2 percent tax levy cap. The committee will periodically report its findings to the Village Board.
The committee will be charged with addressing the following tasks:
•develop a request for proposals for the village's current health care system;
•research a request for proposals for alternate health care insurances in consultation and partnership with labor;
•develop a request for proposals for the village's current liability, life insurance and other insurance programs;
Vote on this Story by clicking on the Icon