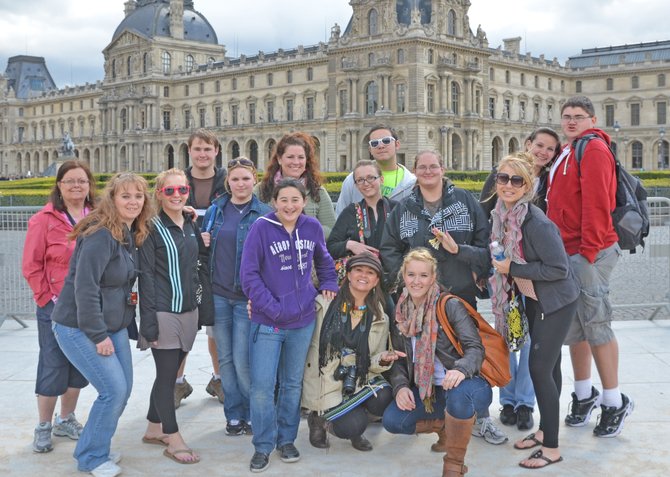 Crown Point — Three countries in 10 days. It's no wonder Jayna Andersen is tired.
Andersen, a Crown Point Central School teacher, led a group of students and adults on a tour of Europe recently, visiting Italy, France and England.
"This was a very fast paced and busy trip, with a ton of traveling," Andersen said. "But the students were amazed, as I had hoped. They will treasure these memories and experiences for a lifetime."
Making the trek were students Marissa Titus, Jordan Popp, Jake Courcy, Sam Bodette, Keegan Choffatt, Ryan Worth, Jenna Petro, Natasha Burns, Brooke Feith and Mickaela Gunnison along with adults Elaine Dixon, Peggy Patnode, Tieah Gunnison, Barbara Boyer, Jenn Boyer, Katie Whitford and Andersen.
The trip was planned through EF Tours, an educational tour group specializing in student trips.
"I have always loved traveling and have visited Europe many times in the past and nothing compares to the thrill and adventure of seeing buildings and artwork that you have read about or seen pictures of," Andersen said. "I have a fascination of other cultures, their way of life, their food, their art...I crave it and I wanted to share that enjoyment with as many people and students as I could.  
"Why live in a world and not see all its wonders?" she asked. "I love the quote, 'The world is a book and those who do not travel read only one page' by St. Augustine. I have traveled to Italy now three times, Ireland three times, France, England and Spain and I plan to continue throughout my life.  I long to see it all." 
The group spent four days in Italy. They toured the Rome city center seeing the Trevi Fountain, Roman Catacombs, Piazza Novona, Spanish Steps, Pantheon (oldest building in Rome), Victor Emmanuel Monument, Colosseum and the Roman Forum.
(Continued on Next Page)
Prev Next
Vote on this Story by clicking on the Icon