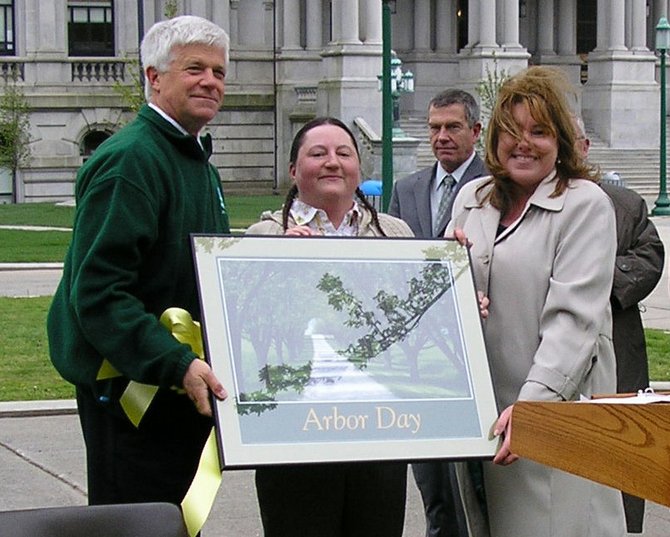 continued — For more information call Pulling at 585-6312.
To help fund "Art in the Park, a Plein Air Fest" Dwyer was awarded a Developing Community Arts Grant by the New York State Council on the Arts. Stella and Tonya Whitford Condon, another Ticonderoga Arts artist, attended the awards ceremony at the Lake Placid Center for the Arts where Dwyer accepted the award — a first for Ticonderoga Arts.
Whitford also recently received two honors. She received honorable mention for her photograph "Gray Treefrog" in the Arts Council for the Northern Adirondacks Traveling Cover Art Exhibit. Her photograph is now on exhibit at North Country Community College in Ticonderoga as part of a traveling show.

Having won the New York State Arbor Day 2012 poster contest, Whitford attended the Arbor Day celebration in Albany, where she was presented with a framed copy of her poster "Shady Lane" and participated in a ceremonial tree planting in West Capitol Park.

Whitford's photograph was produced on paper donated by the International Paper Co. Ticonderoga mill from trees harvested in working Adirondack forests.

"When Ticonderoga Arts opens their gallery for the season, we'll be promoting an appreciation for the creative process and the role that our artists play in the vitality of our community," Curtis said. "We invite you to stop in and discover the work of 18 artists in a continually expanding variety of media including painting, photography, pottery, wood, textiles and jewelry on exhibit and for sale.
"Support by members is essential to keep the gallery going and growing," she added. "Please help us continue to offer art and culture in the Ticonderoga area by becoming a member."
For more information, Email ticonderogaarts@gmail.com, visit on Facebook.com/tiarts, go online at www.ticonderogaarts.org or follow on Twitter @ticonderogaarts.
Vote on this Story by clicking on the Icon