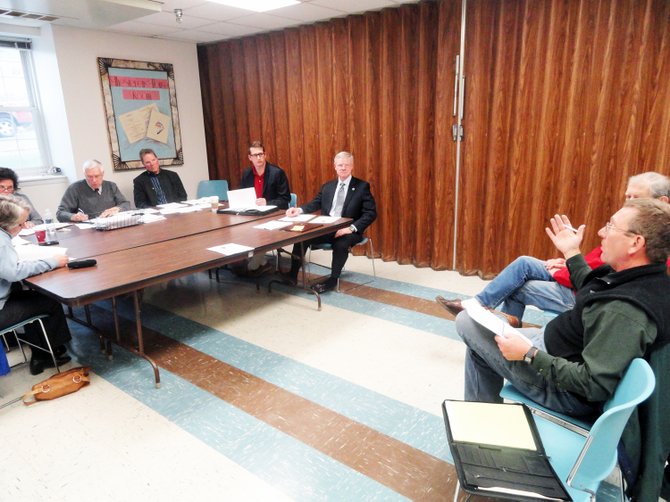 continued — The current plan is from 1997.







Also at the May 10 meeting, the board voted to allow the Lake Placid Film Forum to screen a film in Mid's Park shortly after dusk on June 13 and 14.
"The Forum's struggling," village mayor Craig Randall told the board. "They're looking anxiously to try to find some sponsors to help underwrite the costs of what they're doing. We could consider sponsoring this film showing. I was thinking maybe $500. We do something similar for the Lake Placid Sinfonieta — in return for funding, we hire them for a certain number of performances each summer in Mid's Park. It adds an element of culture to the community, and I think there's some value in that."
The board voted to allocate $500 to support the Film Forum.
In other news, Randall told the board that the village government now has a Facebook page and a Twitter account, which were set up as a way to communicate official information to the public.
Randall noted that he didn't really know how to use either account; his wife and the village clerk set them up.
"The people around me were saying that we really need to put the rest of the (online) pieces in place," Randall said. "There are things we can do as long as someone knows how to do it — not me."
Also at the meeting, board member Art Devlin announced that surplus bricks owned by the village are being stored near the airport and are available to the public for free, and board member Jason Leon congratulated local bicyclists for getting the attention of the state Department of Transportation.
Activists created an online petition asking the DOT to create wide shoulders on Route 86 between Saranac Lake and Lake Placid in order to make the road safe for biking. Transportation officials have said they are aware of the concerns regarding the road and will accommodate the interests of bikers as best they can when they repave the road.
"It shows that you can make a difference," Leon said. "I think it's fantastic."
Vote on this Story by clicking on the Icon