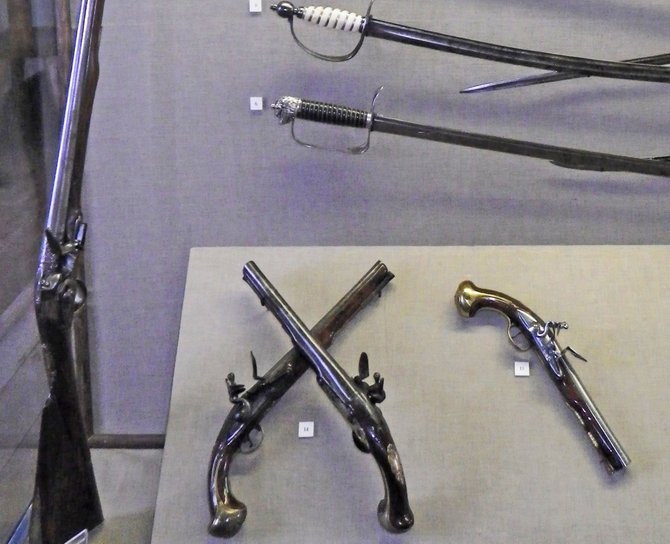 Ticonderoga — Fort Ticonderoga offers visitors a new exhibit this season.
"Bullets & Blades: The Weapons of America's Colonial Wars and Revolution" is now available for view at the historic site. It features more than 150 weapons from the museum's collection.
"This is the first major new weapons exhibit the museum has undertaken in over half a century," said Chris Fox, Fort Ticonderoga curator of collections. "The creation of this exhibit is an important step in a process to improve Fort Ticonderoga's exhibits and make them more engaging and informative for the public."

The exhibit is divided into seven sections. It includes a variety of muskets, pistols, swords and powder horns — some of which are one of only two or three known. The exhibit explores the weapons used in America from the early 1600s through the end of the American Revolution.
"The exhibit, combined with related interpretive programming, bring the fort to life in a groundbreaking approach that continues to place Fort Ticonderoga as a premier destination experience and nationally recognized center of learning," said Beth Hill, Fort Ticonderoga executive director.
"Bullets & Blades: The Weapons of America's Colonial Wars and Revolution" features never-before-seen, pieces from the Grafton H. and Barbara W. Cook collection of historic weapons donated to Fort Ticonderoga in 2009.

Highlights in the collection include rare examples of British cavalry swords and pistols and the massive basket-hilted swords carried by Scottish Highland troops. Other highlights from the Cook Collection include a rare British military pistol used during the reign of England's King James II and a Ferguson patent breech loading rifle, whose technological innovations resulted in the British army's first breech loading firearm adopted in 1776.

The oldest weapons in the exhibit were donated by Mr. and Mrs. Cook including a rare early 17th century matchlock musket similar to the type used by Samuel de Champlain during his brief engagement with the Iroquois Indians on the Ticonderoga peninsula in 1609.
The exhibit and related programs are made by possible by support from Champlain National Bank, CornerStone Telephone, Society of Colonial Wars in the State of New Jersey, GE Foundation, The Black Rock Foundation Fund and individual supporters.
For more details visit www.fortticonderoga.org or call 585-2821.
Vote on this Story by clicking on the Icon