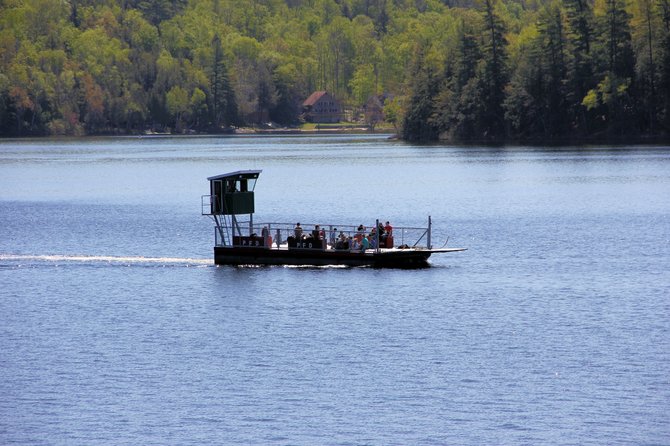 Schroon Lake — Schroon Lake is beautiful. That's more than an opinion. The Schroon Lake Association has the facts to prove it.
Recent statistics published by the state Department of Environmental Conservation give Schroon Lake a Class AA rating, which means the lake is fit for drinking, swimming, boating, fishing, aquatic life and aesthetics.
The good news about Schroon Lake became even more significant to Schroon Lake Association board members Paul Conolly and Eric Bright while they attended the recent annual New York State Federation of Lakes Association conference.
"We were dismayed to learn about the condition of many of the lakes in New York State," Conolly said. "This reinforces the beauty and health of so many of our lakes in this region."
The major areas of concerns for any lake in New York are invasive species and unhealthy levels of nutrients, such as phosphorus, which can result in growth of blue-green algae which release unhealthy toxins into a lake, Conolly noted.
"Phosphorus levels in Schroon Lake are at very healthy levels thanks to the efforts of many people, organizations and local government entities in this region," he said. "The primary sources of phosphorus coming into a lake are septic systems and fertilizers, which are a topic of regular discussion around Schroon Lake, with strategies developed to keep levels low. Over the last 15 years, hand harvesting of eurasian milfoil has resulted in the significant decline and control of this invasive, and potentially debilitating, plant in our Schroon Lake."
Conolly said the conference proved that addressing issues in any lake early is much more cost effective than waiting until there are major problems.
"For many lake associations in New York State efforts to address severe lake issues are just getting started, while Schroon Lake has shown the foresight to taking up issues early on, demonstrating cost-effective successes," Conolly said. "Many lake associations in New York State need to get well over $100 per association member to cover lake conservation expenses, while the Schroon Lake Association asks members for $15 to $25 (many members volunteer more). Equally shocking is that many lake associations in New York are not even clear as to whether they should be addressing their lake quality issues."
(Continued on Next Page)
Prev Next
Vote on this Story by clicking on the Icon