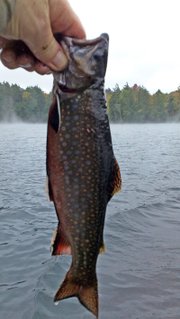 Almost every angler has suffered at least one embarrassing incident while pursuing fish. Often, these incidents tend to revolve around standard themes, most commonly centered on the big one that got away, a leaky boat, a weak line or other common mistakes.
I must admit, over the course of my career as a guide, I've had my fair share of adventure, and misadventure. However, I never expected to experience such a moment while in a small, rural grocery store.
Lake Clear General Store, which is located hardly a stone's throw from the Adirondack Regional Airport, has been a regular stop on my angling outings for many years.
I often stop by to pick up lunch, get a pack of worms or purchase some spare tackle. Sometimes, I'd stick around to chat with Phil, the former proprietor, and over the years, we became good friends. We often engaged in friendly give and take banter, about his "sky high prices" or my lack of purchasing anything other than "worms and a license."
The General Store has always been the most convenient location to purchase fishing licenses for my regular guests, who often fly in to stay nearby at a small, exclusive resort.
Throughout the late 1980's and into the mid-1990's, I hosted an annual fishing excursion for a group of motion picture executives from California. The group would always arrive via a corporate jet, and their transition from the streets of Los Angeles, to the forested 'carries' of the Adirondacks was abrupt, and routine.
It always followed the same pattern. I'd meet the plane on the runway, and after a quick round of banter and numerous wagers on who would catch the largest fish, we'd load up, and head off to Lake Clear General for essential supplies.
At the store, everyone bought a fishing license, as well as other crucial camp necessities such as bug repellent, cheap cigars and plenty of beer. Saranac Pale Ale proved to be the most popular beverage, and the heaviest, since it is only available in bottles.
Joe Hackett is a guide and sportsman residing in Ray Brook. Contact him at brookside18@adelphia.net.
(Continued on Next Page)
Prev Next
Vote on this Story by clicking on the Icon