Elizabethtown — Two local fire chiefs were honored for their service by the Essex County Department of Emergency Services May 7.
During the monthly board meeting of the Board of Supervisors, Emergency Services Director Don Jaquish, along with Moriah Supervisor Tom Scozzafava, presented resolutions of appreciation to Moriah Fire Department Chief Ralph Jaquish and Mineville/Witherbee Fire Department Chief Paul Tromblee, as both have announced that they are retiring from service.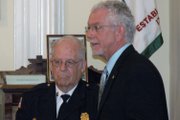 Jaquish had been the fire chief in Moriah for the past 53 years, and was believed to be the longest continually serving fire chief in the state of New York.
"Ralph has been a good personal friend of mine and has even served on the town board," Scozzafava said. "We appreciate all that you have done for our community."
Tromblee had served as the chief for Mineville/Witherbee for the past 17 years.
"We congratulate you on your retirement and enjoy yourself," Scozzafava said. His wife, Nancy, has served as a fire commissioner for 25 years."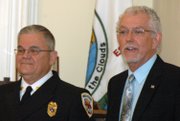 Scozzafava also said that he was proud of the way the three local departments work together.
"We are fortunate to have three fire departments," Scozzafava said. "Our community should be very thankful that we have these three departments that all work well together for the community."
Tromblee took a moment to thank the Board of Supervisors for their work to improve the communications systems in the county.
"You are recognizing us today, but I thank you, the board of supervisors, for making the decision to improve the radio system in Essex County," Tromblee said. "We are nothing unless we have a good radio system, and I thank you for making that hard decision because I know that it was an issue. Thank you for helping us."
Vote on this Story by clicking on the Icon