Willsboro — When the Lake Champlain Bridge Grand Celebration Parade begins, William Miller will be the one to kick it off.
Miller will be firing the canon that will signal the start of the parade, and will do the same for several other events throughout the two-day event to celebrate the new link between New York and Vermont.
Miller, who lives on Willsboro Point, inherited the canon through a friend in Moriah who he had met through boat building and racing.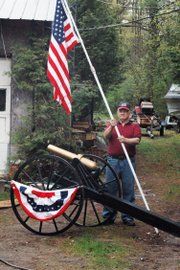 "I inherited the canon in 1998 from Louis Velez, and I have been doing all different kinds of events since," Miller said. "I have done events here in Willsboro, for the Battle of Plattsburgh and all over Vermont. This canon has been everywhere."
Miller said that he got help from some of his former co-workers at the Georgia Pacific Plant in Plattsburgh, where he retired from, to help get the canon into working order so it could be used for public events.
Miller said that he has received a lot of contributions for the events around the bridge celebration to help pay for the canon powder.
"I have been waiting for this event since last year, so I am looking forward to it," he said. "I am going to be firing several times to signal the start of different events."
Miller said that the canon is one that was used for signaling other ships or for use in rescue situations.
"They would use it to fire ropes between to ships if one was in trouble," he said.
When Miller is not firing off the canon, he can be found at his workshop in Willsboro, where he is currently working on building a replica of a Dodge Water Car.
"This one is for me," Miller said. "It's an addiction. I keep saying that this boat is going to be my last or I am going to make one more after this, but the truth is, my last boat will probably be right before I die."
(Continued on Next Page)
Prev Next
Vote on this Story by clicking on the Icon