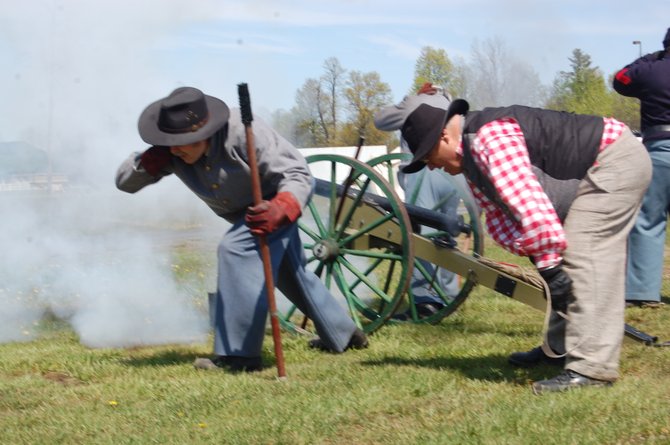 continued — "The Civil War was one of the most heart-wrenching moments in American history," Hewson said. "It was a defining moment in our country, and the end result was a more unified nation.
"If you want to understand how things progressed, you have to understand what came before."
America Civil War reenactment is most common in the United States but also occurs in Canada, the United Kingdom, Germany, Australia and Italy.
It began before fighting had ended when veterans recreated battles to remember comrades and teach others about the war.
More than 50,000 Union and Confederate veterans attended the Great Reunion of 1913 to celebrate the Battle of Gettysburg and conduct reenactments.
Reenacting's popularity grew during the 1980s and 1990s, and the 135th anniversary of the Battle of Gettysburg near the original battlefield is considered the largest re-enactment ever held in the world, with between 30,000 and 41,000 re-enactors.
The number of Civil War re-enactors was estimated at 50,000 in 2000, though those numbers dropped to roughly 30,000 in 2011.
Dodge began re-enacting eight years ago through the Battle of Plattsburgh and it mushroomed from there. He also participates in Revolutionary War, French and Indian War, Spanish American War and WWII re-eneactments.
"We have so much history, and I want to get people interested."
"This brings an element of realism no book could ever do," added Hewson. "You get to engage and interact with a part of history that is being brought to life."
Vote on this Story by clicking on the Icon