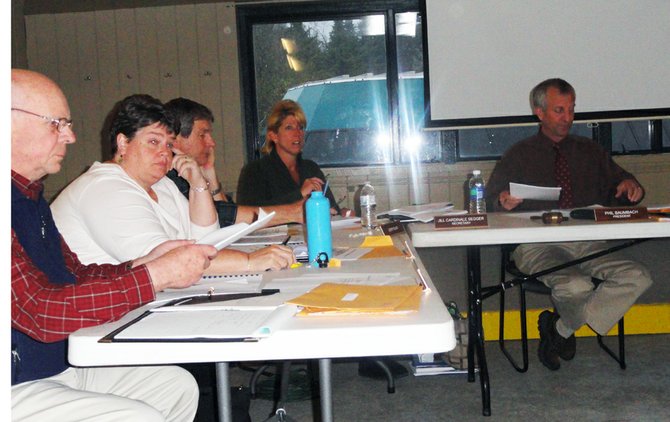 continued — "No, we weren't pleased," Blair responded. "It was a tough task, but you have to remember we were under a tax cap. We had to unload $246,000. That can't come from basketballs and it can't come from pencils. I feel bad when a teacher has to go, but we went to the position that had the least number of children."
Blair also addressed Robert Schiller's statement that decisions related to the school budget appear to based on cost and efficiency rather than value to the future of the students.
"Let me bring to your attention that we are adding a number of courses," Blair said. "What we're trying to do, desperately, is give kids the absolute best that we can."
Addressing school board candidate Mary Dietrich, Blair said, "I want to compliment you on somebody finally saying that we may need to get the facts before we make a decision. I consider that to be a real step forward. I haven't heard anyone, since we got the petition (advocating removing Richards from his job), mention anything about facts. 'This is how I feel. This is what we want you to do!'"
"There are some facts involved here, folks. I'm working with the facts, and I'm also working with a couple of lawyers."
"If you went to the doctor, and the doctor told you to take these two pills and you'll get cured, you can say, 'The hell with the doctor, I'm not doing anything,' or you can take the two pills. That's called common sense."
"Two lawyers told us to keep our mouths shut, 'because, if you (say anything) things can happen,'" Blair said.
Vote on this Story by clicking on the Icon