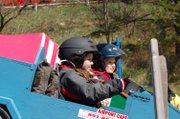 Saranac Lake — This was no video game. Kids of all ages drove their soap box derby cars down the LaPan Highway Saturday, April 28, trying not to bump into their competitors, or worse, the crowds hovering around the hay bales lining the course.
Daffest Schedule
Friday, May 4
•11:30 a.m. - 5 p.m.: Jail and Bail for BULBS! The Daffest Police will have warrants in hand and hand an will be "arresting" all the colorful characters who have been selected by their friends, family or co-workers. To have someone arrested just call Janie @ 637-4990 or LeeAnn Baker @ 586-1573 or 586-1573. The "bail" will be $25. All proceeds will buy daffodil bulbs to be planted in public places around the village.
•1 p.m.: Wigmore Garden Tour. View the expansive Wigmore Gardens in full daffodil bloom on the shores of Oseetah Lake. More than 3,000 daffodil bulbs are surrounded by thousands of other flower varieties along with towering trees. Transportation will be provided from the Chamber Booth at Riverside Park.
Saturday, May 5
•All weekend: Plein air artists will be painting throughout the village.
•10 a.m. - 1 p.m.: Planting Clinic and Perennial Swap at Willy Nilly on Lake Flower Avenue. Hosted by Dana Fast, the "McMaster" Gardener, and Shelly Hough, owner/ operator Willy Nilly. All perennials must be already divided and labeled and delivered by 10 a.m. People will be given "swapping" points for their plants. The swap will take place at 11 a.m. There will be gardening, composting and planting tips from master gardeners Dana Fast, Shelly Hough and Cornell Cooperative Extension.
•7:30 p.m.: Saranac Village at Will Rogers will host a Le Groove Jazz Concert with dessert reception and tours following. A $5 donation is requested.
Sunday, May 6
•DAFF_ART! This exhibit opens May 6 and runs to May 13. Saranac Lake ArtWorks is going to put on an exhibit at multiple locations from the Adirondack Artists Guild, at 52 Main St., to NorthWind Fine Art and Piece by Piece Studio at 36 Broadway. Members of ArtWorks will be creating daffodil related art in all sorts of different media: watercolors, oils, photography, ceramics, fiber art and more. Plein air artists' creations will be available for sale at the Adirondack Artist Guild.
(Continued on Next Page)
Prev Next
Vote on this Story by clicking on the Icon