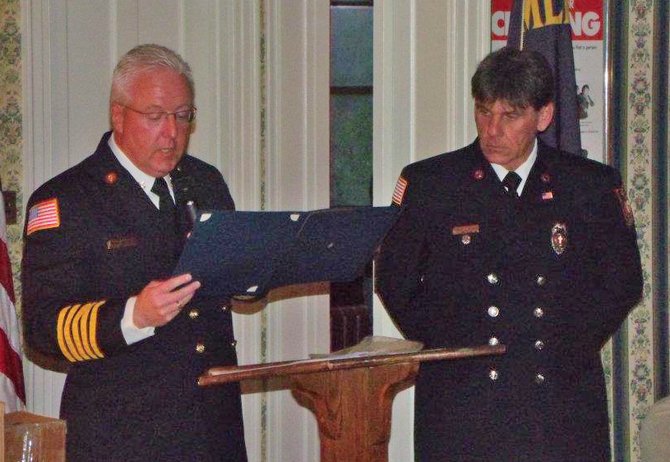 Port Henry — The Port Henry Fire Department honored a member for heroism during its 138th annual banquet recently.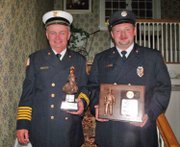 Dain Venne received the Firefighter Commendation Medal for his life saving actions while rescuing several stranded victims during Tropical Storm Lee last August. Venne is currently serving in the Army National Guard based in Afghanistan. His father, Brian Venne, accepted the award on his behalf to a standing ovation.
Past Chief and current First Assistant Chief Thomas F. Edwards was recognized and presented the Firefighter of the Year Award for 2011. He was presented a statue engraved with his name and a gold uniform medal.

William R. Blood was presented the Rookie of the Year Award for 2011 as selected by the chief officers for his service, attitude and commitment to the department.
A special recognition was extended to John T. "JW" Waldron for responding to 70 of 103 calls in 2011. He was given an engraved Leatherman Tool.
An appreciation award was presented to Laura and Greg Muniz of George's Restaurant for their support and dedication to the department, especially during the flooding conditions of 2011.
Port Henry Fire Department Members recognized for several years of service included: Richard DeFelice (5 years), George Daly (10), Timothy Boyle (20), William Ball (25), Charles Bryant, Jr. (30), Daniel Bryant (30), Edward Bryant (30), John Hickey (30), Charles Kolodzey (30), Brian Venne (30), Ernest DuRoss (35), Thomas Edwards, Sr. (35), `Joseph Gilbo (35), Lester Daby (52), John Sweet (54), LeRoy Vanderhoof (56) and John "Jack" Waldron (63).
The banquet was held at the King's Inn in Port Henry. Approximately 65 people attended. Fire Chief Jim Hughes acted as master of ceremonies.


Guests in attendance included Gov. Andrew Cuomo's North Country Regional Representative Clifford Donaldson; Port Henry Mayor Ernest Guerin and wife, Debbie; Deputy Mayor John Sheldon and wife, Nancy; village trustee Ruth McDonough; Moriah Supervisor Thomas Scozzafava; Essex County Emergency Services Director Don Jaquish and wife, Louann; Chief Ralph Jaquish of the Moriah Fire Department and wife; Ruth; Past Chief Paul Tromblee of Mineville-Witherbee Fire Department and wife, Nancy; Chief Adam Wright of the Mineville-Witherbee Fire Department and wife, Danielle; and Captain Lou Paris of the Town of Moriah Ambulance Squad, Inc. and wife, Karen.
(Continued on Next Page)
Prev Next
Vote on this Story by clicking on the Icon