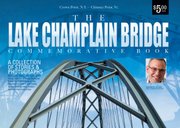 Crown Point — The Lake Champlain Bridge is a key to the region's success. If there was ever any doubt about it, residents quickly learned of the span's importance when it was unexpectedly closed in 2009.
Now, with a new bridge in place, a party will be held May 19 and 20 to highlight the link between New York and Vermont.
The Lake Champlain Bridge Community, composed of New York and Vermont residents, will hold a grand opening gala for the span.
Buy our award-winning souvenir bridge book
Be sure to pick up an edition of the award-winning, 132-page "Lake Champlain Bridge Commemorative Book" during the bridge celebration May 19-20. The book, which includes 38 stories and more than 90 photographs, is a collection of memories that explores the history of the original 1929 bridge and the construction of the new one. It will be available at a booth in front of the Bridge Restaurant just over the bridge in Vermont and at a booth just before the Crown Point State Historic Site in New York. The cost of the book remains a very reasonable $5.
"Things are going very well; it'll be a wonderful event," said Sue Hoxie, Lake Champlain Bridge Community communications chairwomen. "We have lots of artists, performers, craftspeople. We'll have tents set up on both sides of the lake, New York and Vermont. It'll be great."
The grand opening was scheduled to coincide with the actual bridge completion. When the contractor couldn't give the Lake Champlain Bridge Community a definite completion date, the grand opening was delayed. The bridge actually opened to traffic last October.
"It would have been nice to have the grand opening when the bridge actually opened, but this has given us more time to plan and raise money," Hoxie said. "It's given us an opportunity to have an even bigger and better event."
(Continued on Next Page)
Prev Next
Vote on this Story by clicking on the Icon