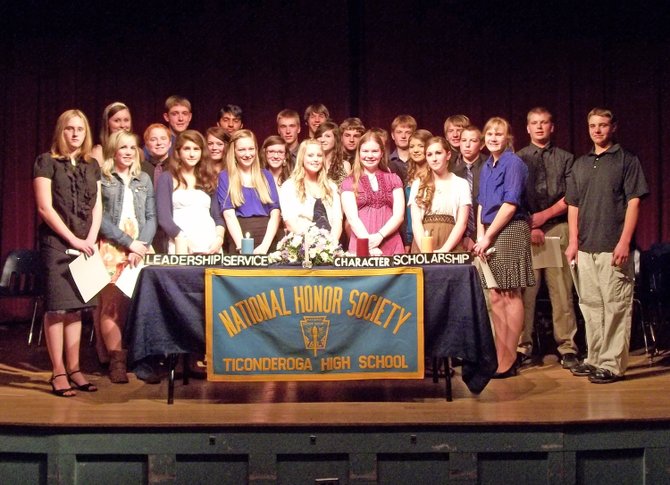 Ticonderoga — Hiding from the Nazis in World War II, Janina Gertzentein often thought about all she had lost — and what could never be taken.
"An education is one of the few things in life that can never be taken away from you," the young Jewish woman thought as she and her husband sought to escape Poland.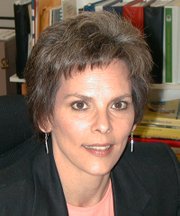 That story was recounted by Ticonderoga Supervisor Deb Malaney as she addressed the Ticonderoga High School National Honor Society chapter during its induction ceremony May 1.
Malaney told students how Gertzentein, a former co-worker, and her husband fled their homeland of Poland, travelling at night and hiding from the Nazis.

"Be true to yourself," Malaney told the honor students. "Be a role model to others. Give back where you can. Be a good steward of the earth and of its precious resources that provide for your very existence. And, most importantly, do not ever give up."
National Honor Society President Paige Hughes and Principal Michael Graney welcomed 26 new members to the Black Watch Chapter of NHS at the annual candlelight induction ceremony.

The theme of the ceremony was "American spirit." Highlighting that spirit were stories of four American presidents — George Washington, Abraham Lincoln, Franklin D. Roosevelt and John F. Kennedy.

Black Watch Vice Presidents Brandon Russell and Joseph Gonyeau and Executive Members Corey King, Nathan Lenhart and Anita Zhang helped Hughes explain the four qualities of NHS — scholarship, service, leadership and character. A large candle was lit to represent each trait. Inductees then lit their own small candles from one of the four larger candles, signifying which characteristic is most important in their life. New members were then officially welcomed into NHS by Graney.

Finally, inductees, members, parents, faculty and friends were invited to the high school cafeteria for cake and refreshments.
"Ticonderoga High School is proud to welcome such a large and outstanding group to the ranks of the Black Watch Chapter of National Honor Society this year," said Deb Breitenbach, Ticonderoga NHS adviser.
New members of the Black Watch Chapter include Cassandra Adams, Zeshan Afzal, Alaina Bevilacqua, David Busick, Morgan Dean, Kaitlin Diskin, Mark Donohue, Taylor Dorsett, Anthony DuShane, Blake Gautreau, Skyler Gilbert, Martin Glazer, Jay Hebert, Maura Jebb, Haley Kuhl, Ashlyn LaPerle, Sean Lawrie, Kaleigh Malaney, Logan Mars, McKenna Kelly, Cody O'Hara, Sara Plude, Clifford Raymond, Andrea Russell, Shelby Spaulding and Katherine Towne.
Vote on this Story by clicking on the Icon