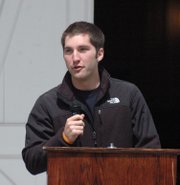 Elizabethtown — When Brody Hooper started his campaign against synthetic pot, he hoped it would come to this.
Hooper, a junior at Elizabethtown-Lewis Central School, looked out over the hundreds of students gathered at the Essex County Government Center to rally against the sale and use of substances like K2 and Spice.
"I was not sure what would come from the meetings and the trips to schools, but I was hoping for something like this to happen," Hooper said. "This is about getting students from all of these different schools together to get a final resolution to this problem."
Hooper said that there has been a lot of positive feedback from the presentations that he has made in almost every school in Essex County about the dangers of synthetic marijuana.
"There have been a lot of similarities between what I have seen at my school and the others we have been to," Hooper said. "Kids come up after and tell me similar experiences and hopefully there are a lot of people that have been benefiting from my presentation."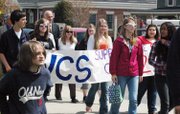 Hooper and peers from Elizabethtown-Lewis Central School joined with students from Westport, Willsboro, Schroon Lake, Keene, Moriah, Crown Point and Ticonderoga at the rally, which included a walk and presentations by the BEST Committee, the District Attorney's office, the Essex County Sheriff's Department and the Prevention Team.
"We got something started," said Hooper about the partnership. "Now, it will hopefully end with a law banning this substance in New York."
Willsboro student Sam Politi also spoke at the event, saying that he had seen friends affected by the substance.
"It's a poison," Politi said. "I have witnessed friends seize up and foam at the mouth because of trying K2. We cannot let K2 jeopardize our lives and it is our generation that will enact the change that is required."
(Continued on Next Page)
Prev Next
Vote on this Story by clicking on the Icon