Ticonderoga — It's been a difficult budget process for the Ticonderoga Central School District.
Facing a nearly $2 million deficit when work started, the board of education has adopted a 2012-13 budget proposal that meets the state tax cap.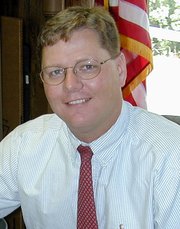 "The point is to have the least impact possible on students," Superintendent John McDonald said. "There will be some increases in class sizes, but we've tried to have as little impact as possible. For the most part, we've tried to keep all our programs in tact."
The proposed 2012-13 Ti budget totals $17,849,823. That's $1,148,124 — 6 percent — less than the present budget of $18,997,947.
The proposed tax levy for 2012-13 is $10,316,732. That's $354,774 —3.5 percent — more than the current tax levy of $9,961,958.
The proposed 3.5 percent tax increase is well below the state tax cap for Ticonderoga, which is 9 percent.
Voters get to decide on the proposed budget Tuesday, May 15, noon to 8 p.m. at the Ticonderoga High School lobby and the Hague Community Center.
Ticonderoga started the 2012-13 budget process with a deficit because of the loss of nearly $1.7 million in "one shot" funding that was used in the current spending plan. Gone are $700,000 in state Excel aid, $310,000 in employee concessions, $300,000 in local fund balance, $180,000 in federal stimulus money and $87,000 from the employee retirement fund.
Compounding that problem is the fact Ticonderoga now receives $1 million less in state aid that in it three years ago.
"If it wasn't for the loss of state over the past few years we wouldn't be in this shape," McDonald said.
Helping Ti close its deficit and meet the tax cap are concessions by Ticonderoga teachers, administrators and staff. A salary freeze will save the district $728,000.
It's the third consecutive year district employees have made concessions, McDonald pointed out. Those concessions total about $1.2 million. McDonald said Ticonderoga is one of just four of the state's 700 districts to have employee concessions three straight years.
(Continued on Next Page)
Prev Next
Vote on this Story by clicking on the Icon