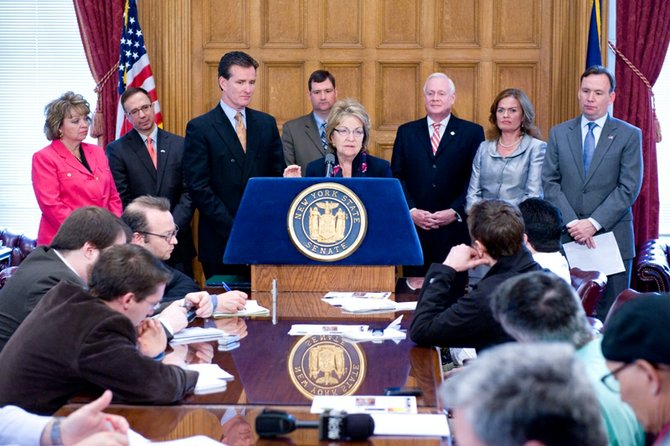 continued — Little introduced the bill in March, as Warren County — impatient with the state legislative process — drafted its own law criminalizing synthetic marijuana. That county law is expected to be passed after a public hearing May 18.
While state legislators were tackling the drug issue in Albany, high school students in Essex County held a rally at the county Government Center in Elizabethtown in support of a ban in their county. Pupils from Elizabethtown-Lewis Central School joined students from Westport, Willsboro, Schroon Lake, Keene, Moriah, Crown Point and Ticonderoga schools in the mass rally.
Betty Little said April 30 that she first heard of the threat of synthetic marijuana last fall from the Glens Falls Police Department. Weeks later, when teenagers personally told her about how it prompted violence, caused seizures, hallucinations and extreme anxiety, she was convinced it should be criminalized. She also heard from Dexter about how it was becoming prevalent in schools, and was causing violent behavior among students who had never before been in trouble.
"Kids have told me this stuff is far worse than marijuana," she said. "I'm happy the bill had overwhelming support today."
Sen. John Flanagan (R-East Northport) co-sponsored the bill with Little.
The so-called bath salts, also named in the ban, are chemically related to methamphetamines and ecstasy. Law enforcement and medical officials say that ingesting these substances also cause serious physical and psychological harm — and have been linked to criminal activity.
Gov. Andrew Cuomo signed a law to ban the sale of "bath salts" last year, and just last month the state Health Department banned the retail sale and distribution of synthetic marijuana — but possession of these substances — still available over the Internet or outside the state — continues to be legal.
Little and others noted that the use of synthetic marijuana and bath salts both pose serious health hazards — some of which are irreversible. Use of the substances have been linked to convulsions, heart attacks, and kidney failure.
Vote on this Story by clicking on the Icon