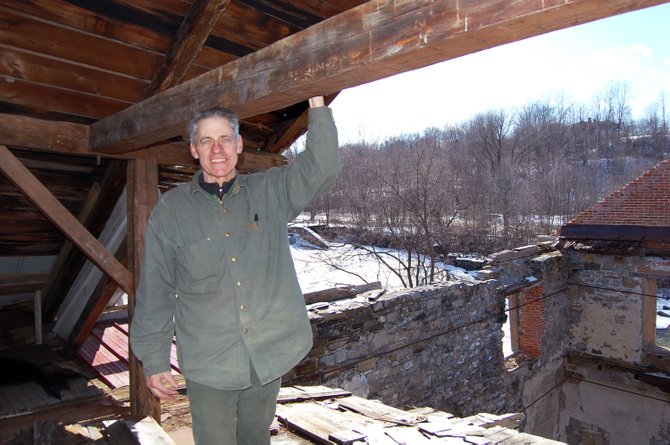 continued — "This place is an icon for a different time here, and I can't wait for the day when someone comes and tells us they have photos of this mill in its glory days," Will said.

Every winter Will has been working little by little through the weekends to bring the building back to life. During the summer, he manages a country club in Connecticut. He said the mild winter this year has allowed him to be productive in his restoration efforts.
"The town didn't want it; no one wanted the building, but I just love the stone walls, and its history as the last standing piece of Willsboro's industrial period," Will said.
The mill was one many industrial buildings on the Boquet River. According to a town census in 1835, other industrial businesses in the town were eight saw mills, one wool fulling mill, one carding mill, two iron works and one ashery in the town.
Later, a paper pulp mill piped its smoldering "black liquor" waste into lagoons dug into the riverbank. By the time the mill closed, the cooled liquor or "black ash" covered 10 acres, and in places was 16 feet deep.
Although not toxic, it could not support vegetation and river currents easily eroded the embankments.
Will said over time and with the help of a water treatment facility there is no sign the river was ever polluted when he looks from the riverbank on the backside of the building or from the open roof of the top floor of the mill.

"Mother nature has cleaned this whole back yard from the mess of the saw mill, paper mill and grist mill," Will said. "Now I want to restore this building and hopefully invite others to see this incredible part of the river and this town."
The next step in construction will be for the new roof and floor frames to be constructed. Will said he hopes by next winter for the roof to be completed.
"I've been saying next winter for the last six years, but I'm not going to stop or give up on this project," Will said.
Though the project has slowly come together over the past few years, Linda and Will said it is an amazing experience to restore the industrial icon for Willsboro.
"Owning the property comes with a responsibility to take care of it and bring it back to good use. Which we will do that to the best of our ability. It is a labor of love," Linda said.
Vote on this Story by clicking on the Icon