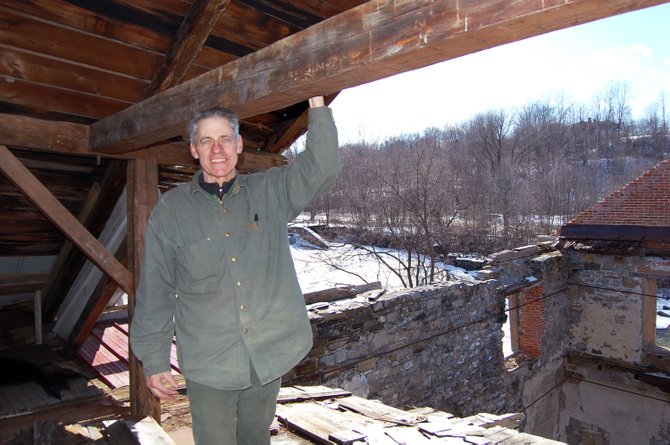 Willsboro — In 1845, the old grist mill in Willsboro received a second chance after a fire, and 167 years later, Will Heintz is rebuilding the town's industrial icon for a third revitalization.
Heintz, a longtime winter resident of Willsboro, bought the building in 2006 with his wife, Linda. For the past five years, he has single handedly cleaned out the rotted floor boards and fallen roof.
The grist mill stands downstream from the fish ladder on the Boquet River. Will, who has rebuilt several other buildings, including an old schoolhouse.
From the outside walls, people passing by can see the old limestone and brick walls with a plaque that reads "Phoenix Mills Wm. D Ross, 1845." So far, he has cleaned out and stabilized the structure.
The vision for the building came from the outside in, Will said, taking in the natural beauty of the river and the breathtaking quality of the original limestone walls. They hope to restore the building and open it up for others to enjoy.
"I can just imagine opening up this building, maybe adding a deck on the back for everyone to enjoy," Will said.

Linda, a Culinary Institute of America graduate, would like to eventually serve the community in a cafe style with sweet treats and sandwiches. Though Will said their shared vision for the building isn't about financial gain, they want to eventually bring the beautiful and historical structure back to life for the town of Willsboro.
"I just love this building and the view of the river. I just have to do something with it," Will said. "It's sensory overload when you are out here."
Since beginning the project, Will said he has enjoyed residents and visitors stopping by to see his progress, and when the property is finished it will be something everyone can share.
(Continued on Next Page)
Prev Next
Vote on this Story by clicking on the Icon