continued — That's when they sent over the water buffalo, which has been filled and maintained by Dannemora town employees.
The State Emergency Management Office provided a trailer tanker, like the ones milk is hauled in, to fill with water and take to the afflicted neighborhood. The health department's scrubbed and sanitized it, and will deliver it early in the week.
Clinton Correctional Facility is also involved in the relief efforts as the 5,000 gallon tanker will be filled there.
"Everybody has a part in this," said Kenoza.
The state Department of Environmental Conservation and Department of Transportation will be investigating the cause of and possible solutions to the issue.
The area affected is close to the state Department of Transportation highway garage, and initial concerns are that salt there is leaching into the groundwater, causing the high levels of sodium and chlorine.
Recommended sodium levels in water shouldn't exceed 20 milligrams per liter (mg/L), said Kenoza. Even that can be too much. Kenoza has high blood pressure, and he said that level can interfere with his blood pressure and cause health problems.
Though he doesn't have a specific chemical analysis, the water tested has 11,000 mg/L of suspended solids. If that's roughly half sodium and half chlorine, then the water may have more than 5,000 mg/L of sodium.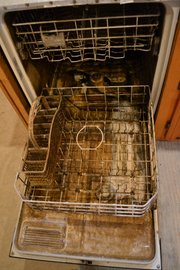 King and Saltmarsh have to boil water to wash dishes and the high suspended solid content has ruined appliances and plumbing fixtures. To get potable water, they've drawn from the spring for years, a practice the County Health Department frowns on as that water may contain e. coli.
Making the situation more stressful is King's hobby farm. He has a couple beef cattle and other animals. He is daily worried about maintaining the animals' water supply along with his own. The town meeting March 28 let out after 8 p.m., and King estimated that he'd need a couple hours to get enough water for his animals.
"This is 2012, and I'm living in the 1800s hauling water," he said.
King said that despite the years of difficulty, he'll keep pushing for a solution to the water problem. With no drinkable water, his property is worthless.
Recently, He couldn't secure a loan against his land for a reverse osmosis machine to clean the water because the bank doesn't see value in the land as collateral.
"I'm not going to stop. What I've worked for all my life is worth nothing," said King.
Vote on this Story by clicking on the Icon