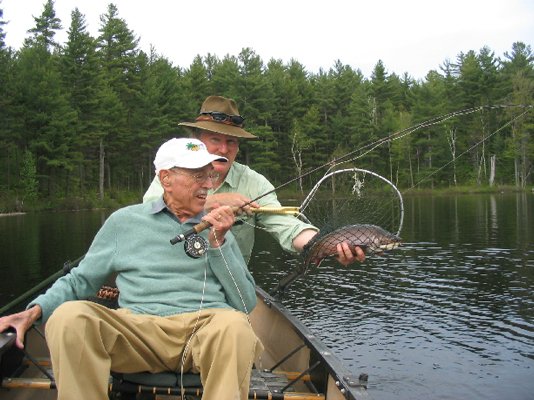 I pulled hard on the oars, as the old gent stripped out long line, and when it was appropriate; I began tracing a zigzag pattern across the surface, to get his fly to drop and rise, in an erratic fashion.
It had been a long day, and the old gent was obviously very tired, as we approached the shore. Suddenly his rod bowed and line began to peel off the reel with a pronounced "zzzzzzzt."
Immediately, I backed down on the oars, as the fish continued to take line. I decided to give chase, but line continued to spool off. There was no indication the fish was going to slow down, but after a seesaw battle, the big brookie finally rolled on the surface. It was a male, with brilliant colors and a pronounced hook jaw. And it was huge!

I backed down on the oars in order to get the fish alongside the boat, and ever so carefully, I slipped the net under him. I knew the old gent was wearing out faster than the fish, and with one swift move, I had it in the net.
The brookie weighed over four pounds, and measured exactly 22 inches in length. It was truly a trophy, and I hoisted it high for the boys to see.
After a few photos, he released the fish, explaining, "I got what I came for, and now it's time to go home."

My job was done, and after a round of handshakes and mutual backslapping; I loaded the boats and stowed the gear, while they slowly drove away.
A month had passed, before I got a letter from the boys. It included a Thank You note, and a copy of their father's obituary, in which he had claimed, "I've never landed a fish, finer than my last."
Joe Hackett is a guide and sportsman residing in Ray Brook. Contact him at brookside18@adelphia.net.
Vote on this Story by clicking on the Icon