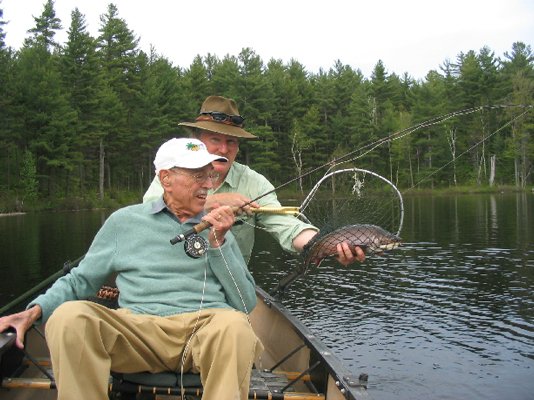 Their father had similar success, however he tired quickly. In less than an hour's time, the boys made the cast and handed him the rod, to strip the line. Often, they landed the fish as well.
It was noon when we broke for lunch, and conversation turned to recollections of past angling exploits, as their Dad recalled the days spent in Canada, back in the 1940s and '50s, fishing for Atlantic salmon on the rivers, and angling for brook trout on the ponds.

After lunch, he asked if there was any chance to catch a wild brook trout. "I truly appreciate your efforts," he explained, "But, I'd really like to catch a wild trout'."

I understood his desire. Although the stocked fish were large, and strong, the atmosphere was tame, especially in comparison with his experiences in the wilds of Canada. I talked it over with the boys, and they agreed to give it a shot.

An hour later, we were on a small pond near Paul Smiths, with the boys in a guideboat, and their Dad and his wife, in my rowing canoe. I had the boys casting dry flies along the shoreline, and soon, they were catching brookies. Immediately, their laughter was bouncing off the surrounding hills.
Their father commented on how much he enjoyed the sound, as he recounted tales of fishing trips they had taken together over the years.
By the late afternoon, I had tied over a dozen different flies on his line; but the brookies showed little interest. We had trolled streamer flies, nymphs and wet flies for hours, to no avail.
As the day worn on, the gentleman wore out, and even the boys were having difficulties cultivating a trout.
Soon they decided to call it a day. Before heading to shore, I changed his fly to a cone-head muddler minnow, in order to get down to the deeper, cooler waters where the trout were more active.
Joe Hackett is a guide and sportsman residing in Ray Brook. Contact him at brookside18@adelphia.net.
Vote on this Story by clicking on the Icon