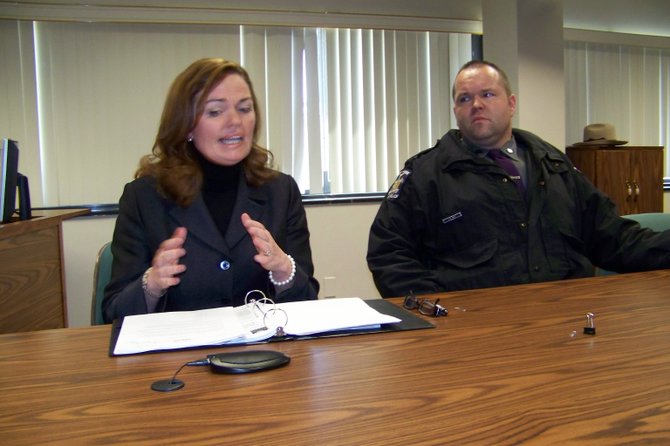 continued — County Probation Supervisor Mark Sager reported that many of the county's 600 probationers of various ages are getting around probation rules banning the use of illegal substances by smoking synthetic marijuana or herbal incense instead of ingesting cocaine or alcohol.
After the vote March 27, Hogan said she was pleased the county supervisors took quick action.
"I'm very happy on the local leaders and Betty Little for their positions on the issue," she said.
Thurman Supervisor Evelyn Wood also offered praise.
"I commend everyone for doing such a good job in drafting this proposed bill in such a short period of time," she said.
CUTLINE: "Posh.Ban.Hogan.Jim.West"
Warren County District Attorney Kate Hogan talks of how the use of synthetic marijuana and herbal incense products has been linked to violent and brutal crimes as well as suicidal urges and various health problems — and is a fast-growing problem among youth in the area. State Trooper James West (right) listens to Hogan's observations, before telling county supervisors about his own similar experiences in dealing with suspects who've ingested the substances.
Photo by Thom Randall
SIDEBAR HEADLINE
SIDEBAR COPY
Vote on this Story by clicking on the Icon