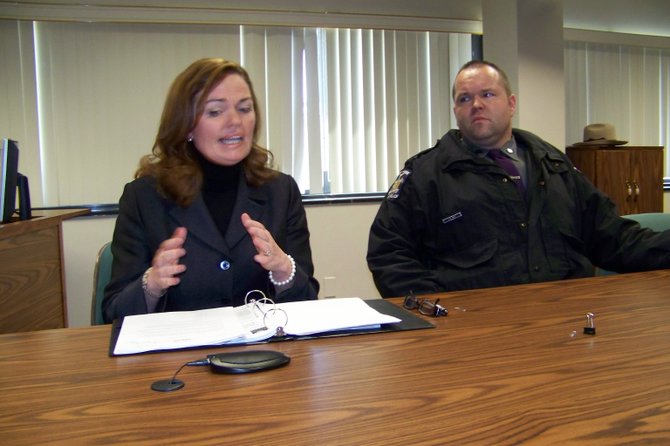 continued — "This guy was super-screwed up," West said. Both he and Hogan both talked of the serious detrimental health and psychological damage the substances could cause, noting that many users from their teens through their 40s were ending up in the Glens Falls Hospital Emergency Center for treatment.
Warren County Attorney Martin Auffredou said the proposed law was based on laws enacted in New Jersey and the cities of Albany and Auburn NY, as well as Suffolk County NY.
The law has the clout of a Misdemeanor, Violators can face jail sentences of up to one year and fines as high as $1,000.
Glens Falls Ward 5 Supervisor Bill Kenny expressed his full support of the law.
"It's imperative we do everything we can to prohibit these substances," he said. "We can't act quick enough on this."
Horicon Supervisor Ralph Bentley agreed.
"This law will get rid of the source of this stuff," he added.
Hogan noted that state Sen. Betty Little of Queensbury had co-sponsored a statewide ban of synthetic marijuana, and it was now under consideration in the state Senate. The state Assembly, however, has no such counterpart bill, and Hogan predicted it would be many months before a statewide ban would receive serious consideration.
She added that the Warren County supervisors enacting a prohibition soon would likely prompt the state to give such a law serious consideration.
"These substances have an enormous impact on the health and safety of our kids," she said.
County Probation Director Robert Iusi said he was aware of a steep increase in the last few months in the use of synthetic marijuana among both youth and adult probationers. Amy Bartlett of the county Attorney's office reported that she had witnessed a similar increase in Family Court cases that involved youths ingesting synthetic marijuana.
Vote on this Story by clicking on the Icon