continued — "Does anyone have the time with work and children? The care she receives here is phenomenal with a staff that understands the needs of her debilitating disease," Austin said.
Austin said, wiping a tear from her cheek, that she is not so worried about the possibility of loosing her job but about the possibility her mother won't receive the best care.
"We need our supervisors to step up to the plate for our residents," Austin said. "Or the message is, don't get old."
After working a 16-hour shift as a CNA at Horace Nye, Katie Clark said she came out on the cold and windy day as a daughter of a resident and to show support for the resident's who were unable to come outside.
Clark said the county was not supporting the home and felt it should take precedent over other services the county offers.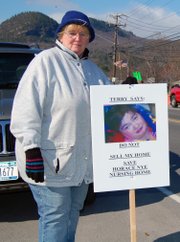 "I personally feel Essex County should take pride in their nursing home the way they take pride in the other services in the county," Clark said. "The county is supporting the jail and the mental health services without making a profit, why can't they take pride in and support Horace Nye without a profit?"
Over the weekend, Beeman said a sign had been placed on the front lawn of the Arsenal Inn at the top of Town Hill in Elizabethtown and later was taken down and moved onto Rte. 9 towards Westport. The sign flashed: Save the Horace Nye Home, Keep it Public, You will need it some day.
Elizabethtown Supervisor Margaret Bartley had the sign moved, citing the sign was unpermitted and violated town laws against flashing signs.
Beeman said no matter what, the staff at Horace Nye and the family members of residents will continue to try to raise public awareness in support of the county home.
"We'll meet a lot of resistance for sure, but we aren't going to back down from this," she said. "Until our doors are closed and the new owners come in, we're not going to stop."
Vote on this Story by clicking on the Icon