Elizabethtown — Horace Nye Staff members, community members and family members of patients stood against the high wind and low temperatures outside the Essex County Government Center to protest the proposed privatization of the Horace Nye Home on Monday.
During the Board of Supervisor's Ways and Means Committee meeting on March 26, over 30 community members equipped with neon colored signs and a bullhorn presented their message to passing cars and people on Court Street.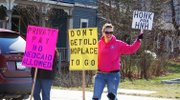 Protesters shouted "My mom's in there," "My sister's in there," "Don't get old, You'll have no place to go!"
With her bullhorn in hand, Horace Nye CNA Celeste Beeman projected to passing cars, "Support Horace Nye, Get involved, get the facts. 10 cents a day, $35 a year, get involved! Essex County needs Horace Nye, we can't afford to sell."
Protesters assembled on Court around 9:30 a.m. to project their message while the Essex County Board of Supervisors assembled inside the county buildings for the monthly Ways and Means Committee meeting. During the meeting, the board approved a measure to review bids for the nursing home.
For those protesting outside, the politics inside hit very close to home.
Liz Austin, an employee at Horace Nye and daughter of a resident, said she was standing up today for her mother and other residents that have no place to go.
"This brings tears to my eyes, if the public could know what the facts are about going private, I can't imagine they would be in support of it," Austin said. "Thats why we are here, we cannot privatize."
Austin said her mother has been a resident of Horace Nye for over 10 years, suffering from dementia as a result of Parkinson's disease. If Horace Nye privatizes, Austin said she and her family would be forced to take her mother out of the nursing home where she has been well taken care of, and she worries what kind of care she and her family will be able to provide her.
(Continued on Next Page)
Prev Next
Vote on this Story by clicking on the Icon