Trees and plants are budding around Clinton County. Though that signals the start of lawn care season and return to local parks for recreation, it also signals the early close of sap season for maple producers.
"That one warm week just killed us," said Alex Sweet, who helps his father, Tom Sweet, in the family's Chazy sugar bush.
The 1,500 tap operation produced around half their normal crop this year, where the season only lasted around three weeks for the low-lying maple stand.
Warm temperatures cause the sugar maples to bud, turning the sap yellowish and bitter, ending production.
Tom Sweet said the sap was sweeter this year, so it took less sap to boil down syrup than in less sugary sap years. That still wasn't enough of a silver lining to close the production gap compared to an average season.
He also wasn't ready for the early start to the season this year. The season started early and strong, but Sweet's sugar house is a second job, and he didn't have the time for early preparation. He figures that lost him 10 to 15 percent of the sap crop.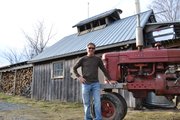 "It's not like leaving hay in the field for a few more days, and when you come back you'll have more hay," said Tom Sweet. "You never regain it at the end."
It was much the same at Sanger's Sugar House.
"So far it has been a very disappointing season," said Kim Sanger. "I think maple producers are the only people who don't like to see it get too warm too fast."
They boiled March 21, but hadn't collected sap since then. Their first boil was March 3, so they only got three weeks of production in. That netted the Sangers about half of their normal.
Helen Thomas, director of the New York State Maple Producers Association, did quite a bit of research Friday morning for the National Oceanic and Atmospheric Administration on production in the state.
(Continued on Next Page)
Prev Next
Vote on this Story by clicking on the Icon