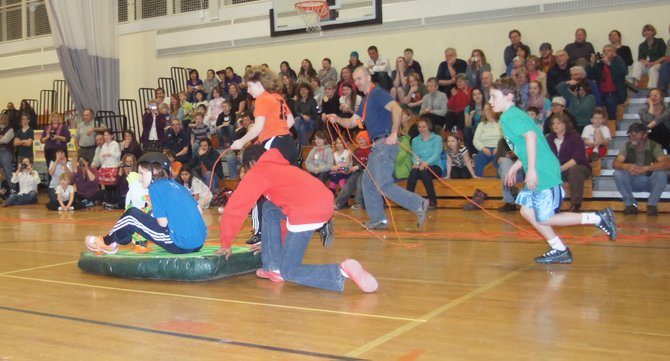 "It's cool seeing how all the experiments have to do with what you find every day," said eighth grader Brianna Joannette, who, with her friend Vanessa Held, was displaying how limes can transfer electric current due to their acidity.

"I got the idea from a book on Leonardo DiVinci," said homeschooled fifth grader Aiden Daniels, whose trebuchet was firing tennis balls the length of the gymnasium. "I named it the Bad Neighbor."

Other projects were looking to alert visitors and parents to societal concerns. The seventh-grade class conducted an experiment on reaction time and distracted driving, using those who attended the event as their subjects.

"I feel like it would tell them [the participants] not to drive and talk on the cell phone — it isn't safe," said seventh grader Ethan Giglinto.

The night culminated with two events in front of a packed house in the gymnasium. The first was an egg drop contest in which students designed containers to protect an egg from breaking when it was dropped from the gym catwalk to the floor below. Four designs succeeded.

In the second and final event, teams of sixth graders raced hover crafts the length of the gym floor. Team Sparta defeated Team Hippies 2-1 in the best of three series.

The night's success is already building anticipation for next year.

"I've heard a lot of kids say 'I know what I want to do next year,'" said Werner. "If it's anything like this year's event, it will be something to get excited about."
Vote on this Story by clicking on the Icon