The Keene Central School held the Keene Central School Super Scientific Science Slam – the first event of its kind for the school — on Thursday, March 8.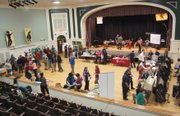 "It's a combination of individual projects, team projects, and other displays," said event coordinator Jen Kazmierczak, whose first and sixth graders took part in the event.

"We thought, 'Let's make a night where we can have kids come in and learn about and get excited about science,' and it turned into a Super Scientific Science Slam," Kazmierczak said.
"We wanted to do a night where science could be participatory and interactive," said middle and high school life science teacher Mary Werner. "We were trying to make science fun — too many times people get intimidated by it."

"The idea came from a simple conversation. We sent a note to the superintendent and she said to run with it," added Kazmierczak. A planning team of parents, teachers, and community members organized the event.

"We had a lot of parental support," said Werner. "It's a very supportive community."

"We hoped we would get community involvement, but we didn't expect this — how many kids got the community involved in their projects," said Kazmierczak.

Not only did the local community and parents get on board to help organize and foster interest in the events, but many area organizations, such as The Wild Center, The Adirondack Museum, and The Nature Conservancy (among many others) were present with their own science displays and tables.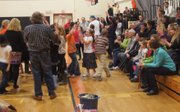 But of the roughly 70 displays and events, most were put together by the students themselves — either individually, in teams, or as part of a class project.

"We've never done one of these events before, so it's really cool to see everyone get into it," said senior Anna Kowanko, who, with her physics class, created a display, complete with dominos and marbles, that was designed to show energy transfer. Kowanko is planning on majoring in biology or biochemistry in college.

(Continued on Next Page)
Prev Next
Vote on this Story by clicking on the Icon