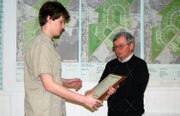 At the town meeting, Connell, along with Councilman Michael Tyler, Steele's former basketball coach, presented Steele with a plaque recognizing his courageous efforts.
"Let this serve as a public notice of achievement for a young man that, when put in an emergency situation, exemplified the behavior grown men wish to emulate. The town of westport wishes to recognize Alex Steele for the heroic actions that not only saved his life but that of his sister," Connell said.
Earlier, Steele had received a commendation from the Essex County Board of Supervisors.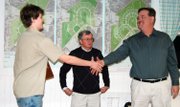 Despite the accolades, Steele remained humble in the moment.
"It doesn't seem honorable what I did," Steele said. "Leaving as quickly as possible and with no time to think, you just act in this kind of situation."
Steele said if his sister, Moira, wasn't such a sound sleeper, she would have done the same thing for him.
Vote on this Story by clicking on the Icon