The lifesaving efforts of Alexander Steele have been recognized by members of the Westport community in special ceremonies by the Fire Department and the Town Board.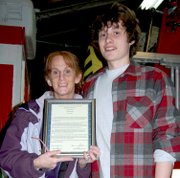 Westport VFD Chief, Jim Westover, Jr., presented Steele with a certificate and resolution of heroism at the monthly meeting March 7.
On March 13, Supervisor Daniel Connell presented Steele with an acknowledgement of courageous actions.

"It's an honor to give you this award," Westover said. "He became a hero because he followed safety and that is what saved his life and the life of his sister. It was his exemplary actions that saved his life and his sister's."
Steele said it was the lessons he learned from the fire department that helped him act to in the early morning hours on Feb. 8, when he woke to the smell of smoke coming from the first floor of his home. Steele went to the next room where his sister, Moira, was asleep and woke her. The two encountered thick, black smoke which made breathing and visibility difficult. Staying low to the ground and using towels to help them breath, both made their way to his bedroom, where he was able to break out the window, climb onto the roof, and jumping 10 feet to the ground.
"Every year they came into school and taught us about fire safety, to have an emergency plan," Steele said. "You never really know how your going to react until it happens."
During the annual fire safety month at school in October, Steel said he learned about staying low to the ground, using a towel to help breathing and the importance of having a safety plan.
"When you hear the lessons on fire safety and having a plan, you think about the stuff you can gather," Steele said."In real life, you don't have time to take things, they say save yourself and thats the only thing there was to do."
(Continued on Next Page)
Prev Next
Vote on this Story by clicking on the Icon