NORTH CREEK — Unseasonably warm temperatures forced the Gore Mountain Ski Center to close earlier than expected on Thursday, March 22.
With temperatures reaching almost 80 degrees, skiers were flipping on the air conditioning in their cars instead of the heater. But that's spring skiing. Abundant sunshine, skiers and snowboarders in shorts and T-shirts, and treks through the thick, Adirondack mud just to get to the gondola for a final run down the slopes.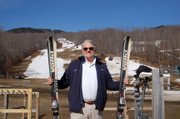 "It's the last gasp of ski season and I didn't get as much skiing in as I hoped, so I'm just grabbing the opportunity," said Bob McCarthy, of Troy, who took the day off from work and drove an hour and a half to ski at Gore Mountain Thursday.
"I called last night on the improbable event that it was open, and they told me it would be open through the weekend, but I just found out today, I guess a minute ago, that in fact this is it," McCarthy said. "This is the winter that wasn't and I'm just kind of marking that."
In an effort to squeeze as many ski days into the season as possible, Gore officials closed the ski center Monday through Wednesday, moving snow to key locations for the weekend.
Gore Mountain Marketing Manager Emily Stanton said heir goal was to prepare enough trails to stay open through Sunday.
"It involved stripping some trails of their snow to put it onto others, making sure our loading an unloading areas of the lifts were well covered and safe for people and just trying to create a quality product with these remarkable temperatures we've been experiencing," Stanton said.
But with temperatures in the 70s and 80s, and full sunshine, there simply wasn't enough snow.
"Unfortunately, we found out this mornning that the snow is just disappearing quicker than we can put it there, so we're got to make today the last day" Stanton said. "It's the best thing for safety, for our skiers."
(Continued on Next Page)
Prev Next
Vote on this Story by clicking on the Icon