continued — "What a tribute to them as well," he said.
Section VII girls basketball chair Greg Waters of Beekmantown said it was a great moment for Beauvais, Westport and Section VII.
"Tom is the first coach to ever get into the Hall of Fame from our Section," Waters said. "He did a lot for the sport as far as club and AAU basketball. It was incredible when you went through the application process to see the number of things that he was involved in within his community, within the section and within the state."
"I can't think of a better person for this honor," Mike Pratt said. "Tom has been so instrumental in every aspect of coaching in regards to the girls teams. He has been a very positive factor for the girls in Westport and his record really just speaks for itself."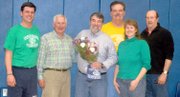 "It's been a great ride for Tom," James Forcier, who was a senior at Westport when Beauvais started his education and coaching career there, said. "He was fresh out of Indiana State University and he grew as a coach just like our kids grew through his experience."
Current Westport head coach Hokey McKinley, who replaced Beauvais after he retired in 2002, said his attitude was a key part of his appeal.
"It was one of Coach's real strengths," McKinley said. "He was always smiling and loved being around the kids. You could see the joy that he brought to it every single day. Even in rough times he was always smiling and positive."
McKinley added that Beauvais also raised the bar for Section VII basketball, not just the Westport program.
"He raised the level of basketball in Section VII considerably for girls," McKinley said. "He expected them to be every bit as athletic and committed as the guys. He was the first coach in Section VII to bring that out."
Vote on this Story by clicking on the Icon