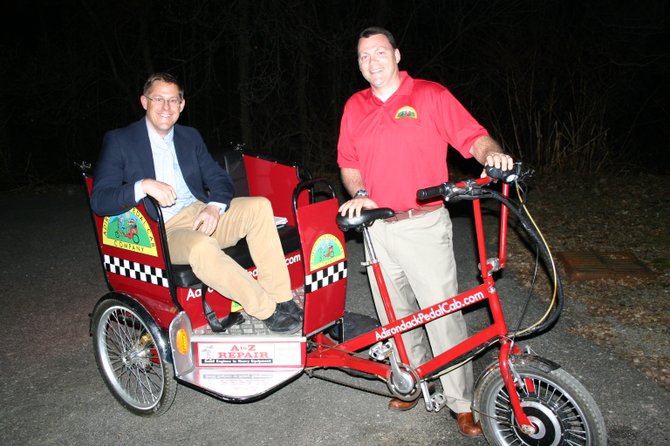 continued — Tomb said the pedalcab operation will create 28 season jobs in the village, as well as provide a fun attraction in its own right.
He also noted that the pedalcab drivers would undergo thorough safety training.
Ray Perry said that the service would be particularly useful in the evening and night hours, to keep intoxicated people from driving motorized vehicles and posing safety hazards.
Tomb said he'd talked with various accommodations in the village, and they were enthusiastic about the service.
Mike Smith said that the pedalcabs would likely roam territory as far south as Water Slide World at state Rte. 9L, and as far north as the intersection of Rte. 9N and Canada St.
Hours of operation are to be from 9 a.m. to 10 p.m. every day in the summer, and weekends in the shoulder seasons.
Blais said he would be meeting with Tomb and Smith as soon as possible to draft a potential agreement, with a goal of having the contract ready for board review at their early-April meeting. Blais also said that he'd be researching whether licensing such a service would need to be put out for public bid.
'This appears to be a valuable service, one that will add to the attractions of the Village," Blais said.
Vote on this Story by clicking on the Icon