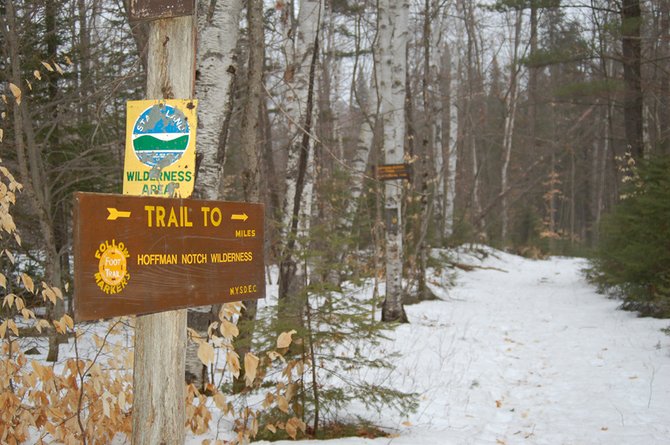 continued — •Restore a native fish community in Marion Pond through reclamation.
•Manage one pond (Marion) as an Adirondack brook trout pond, and one pond (Bailey) as a Coldwater pond.
•Manage two ponds (Big and North) as Warmwater ponds.
•And assess North Pond as a potential reclamation candidate to restore a native fish community there.
Group size
•Adopt regulations to limit the maximum number of overnight users to groups of eight. This will be implemented over a two-year period.
•Adopt regulations to limit the size of day use groups to a maximum of 15 persons per party. This will be implemented over a two-year period.
Campsites
There are no designated primitive campsites located in this unit. There are numerous fire rings: three on North Pond and one each on Bailey Pond, Big Marsh, Tyrrell Marsh, Big Pond, Marion Pond and one in Hoffman Notch located mostly on the larger bodies of water where people have camped.
•Due to the absence of any designated tent sites in the unit, two tent sites will be designated at Big Pond.
•Designate and develop a tent site at Bailey Pond with accessibility in mind. Level / hardened site with accessible fire ring and accessible Privy.
•Construct a lean‐to in the vicinity of Platt Brook along the 4‐mile new trail segment.
•Designate one campsite on North Pond
•Install accessible box privy at all designated tent sites and lean‐to.
Trailheads
The HNWA is served by six public entry points, five of which are considered developed, as a parking area is available at that location. One additional trailhead / parking area is planned for the northwest portion of the unit along the Blue Ridge Rd.
•Replace privy at Lock Muller Trailhead with accessible privy.
•Increase the size of the Big Pond Trailhead parking by one to two vehicle spaces.
Vote on this Story by clicking on the Icon