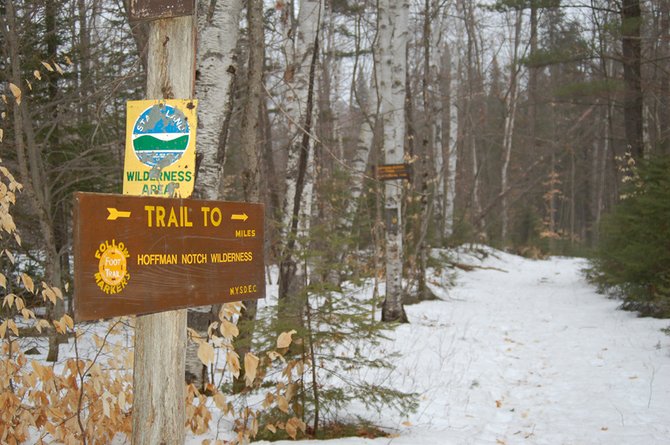 Ray Brook — Adirondack Park Agency (APA) commissioners March 15 approved a unit management plan (UMP) for the Hoffman Notch Wilderness Area, located in the towns of Schroon, North Hudson and Minerva.
Board members unanimously approved the State Lands Committee's resolution, saying the UMP "conforms with the general guidelines and criteria of the Adirondack State Land Master Plan." The UMP is a five-year management plan with specific activities designated for each year.
Major changes to the Hoffman Notch Wilderness Area include establishing new camping areas, limiting group size for daytime and overnight trips, enhancing brook trout fishing opportunities, and working with the Adirondack Park Invasive Plant Program to manage and eradicate invasive plants.
The 38,488-acre Hoffman Notch Wilderness Area (HNWA) is located entirely in Essex County: west of Schroon Lake and the Adirondack Northway, east of the Vanderwhacker Mountain Wild Forest, south of the Blue Ridge Road (County Route 2) in the town of North Hudson, and north of the Hoffman Road (County Route 24).
The acreage spans three townships:
•Town of Schroon: 21,439 acres
•Town of North Hudson: 14,332 acres
•Town of Minerva: 2,886 acres
There are 14.9 miles of trails in the Hoffman Notch Wilderness: the Bailey Pond Trail (.8 miles), Hoffman Notch Trail (7.4 miles), Mount Severance Trail (1 mile) and Big Pond Trail (5.7 miles). There is also a wide array of unmarked trails.
Most trails in the unit are used by a variety of recreationists including those interested in hiking, skiing, snowshoeing, fishing and hunting.
Currently, three trail registers are located in the HNWA. The oldest trail register exists at the base of Mount Severance.
Major proposals in the draft UMP include:
Fisheries
•Reduce the distribution of nonnative and native‐but‐widely‐introduced fish species, and increase the abundance of the depressed native brook trout. This will include reclaiming Marion Pond.
(Continued on Next Page)
Prev Next
Vote on this Story by clicking on the Icon