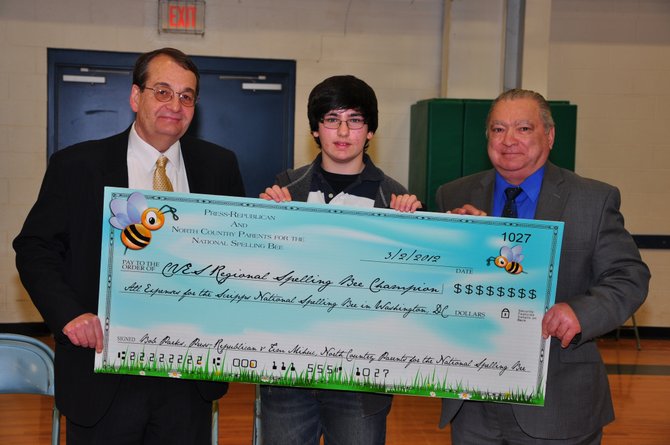 continued — Opera was the first word that presented a problem, as a young woman spelled it wrong, returning to her seat in tears as the tournament went on.
Other words that posed a problem during the first round included melba, mentor, mammoth and gruff.
The word pickle, spelled correctly, ended the first round.
Round two started with embargo, spelled correctly, followed by the words canary, rupture, library, canine, and measure, which the more than 60 students in grades four through eight got right.
Students stumbled on words such as wanderlust and democracy, with diagnosis marking the end of the second round.
The event included a third oral round and a written fourth round.
Moriah Central School student Nicolas Manfred earned the title of Spelling Bee grand champion, as well as the seventh-grade title, by spelling the word "quinine" correctly.
Individual grade-level winners for this year's bee were: Plattsburgh City Schools student Gareth Mansfield, fourth grade; Plattsburgh student Jeremy Cui, fifth grade; Saranac Central student Kenna Fasking, sixth grade; and Jillian Dean from Willsboro Central School, eighth grade.
Manfred also won a savings bond, one-year subscription to Encyclopedia Britannica Online, a gift certificate to Amazon.com, a Merriam-Webster's Third New International Dictionary, and a Valerie's Supplement spelling-word resource.
Manfred further will attend the Scripps National Spelling Bee in Washington, D.C., later this year.
"It feels good," Manfred said.
Vote on this Story by clicking on the Icon