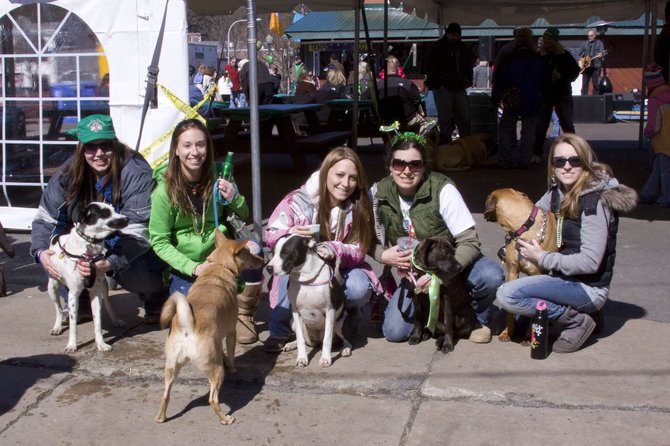 continued — Adult games are to be featured, whether it's the keg-tossing competition, or the traditional "swinging of the Haggis." Children are sure to enjoy searching for gold coins hidden by local leprechauns in the yard of the old County Courthouse.
Last but not least, there will be an informal dog show at 2 p.m. Sunday, and dogs with their owners will be introduced onstage. In this friendly competition, costumes and tricks are encouraged, event organizer Linda Duffy said.
The idea for a St. Patrick's Day celebration germinated over a year ago, when Dan Elkin of Bella's Deli off Amherst
St. and Duffy had a conversation, she said.
"While I've been wanting to have a St. Patrick's Day parade for about five years, Dan said he was surprised that Lake George didn't have an Irish celebration — and we started planning one," Duffy said.
Elkin, Duffy, and Jane Schmidt of the Bank Cafe and Pat Kane of Fake at the Lake tattoo shop then started planning the festivities. Last year's celebration prompted such a positive response that activities were expanded this year, she said.
Grand Marshal for the parade is James "Tom" Burke, the owner of a local construction firm, who grew up in Ireland.
Monday, Duffy expressed appreciation to event sponsors Molly Malone's Irish Gifts, Lake George Bakery, Bella's Deli, Judd's Tavern, Giuseppe's Restaurant, From Bagels to Burgers, Shaughnessy's Old Log Inn, Pablo's Burrito Cantina, Adirondack Brew Pub, Giovanna's at The Georgian, Super 8 Motel, Mario's Restaurant, The Inn of Lake George, Riley's T-Shirts, Duffy's Tavern, Bank Cafe, Fake at the Lake, Duffy's Tavern, Lake George Chamber of Commerce, Town and Village of Lake George, and Warren County Tourism Department.
With 63-degree weather forecast for the weekend, Linda Duffy predicted that quite a crowd will be enjoying the event.
"It's a fun festival to kick off spring," she said noting that for more than a generation, Sham-Rock the Block is the first and only public Irish festivities to be held in Warren County.
Vote on this Story by clicking on the Icon