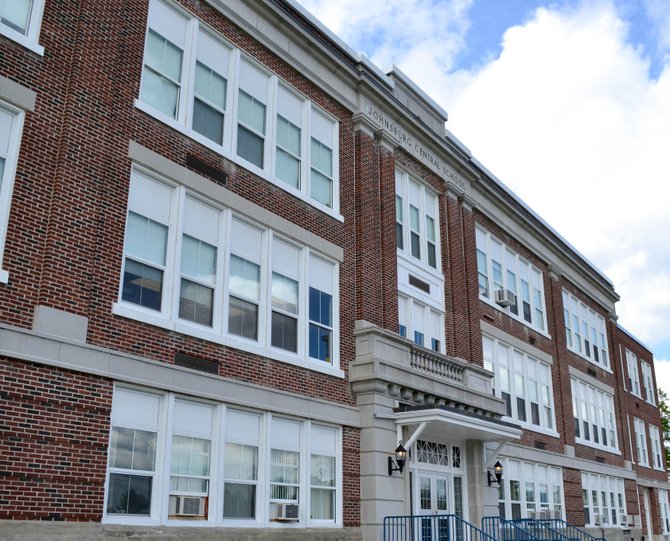 continued — 2) The Tech program, what used to be called industrial arts or shop class, would be cut back under the proposal. Elective Tech classes would be reduced to as few as possibly one offering. The Tech instructor would go to half-time and be shared with Indian Lake.
Audience members were concerned that the skills taught in Tech remain practical and useful, and yet are being relegated to afterthoughts in the curriculum.
3) Computer instruction would also take a hit. The wall separating the high school computer lab and the high school library would be removed, enabling the library staff member to manage both spaces. Computer staff would be reshuffled, effectively resulting in one fewer staff member.
Here, residents worried that cuts could put students at a disadvantage. Skimping could end in students knowing how to use word processing, for instance, but not getting more-valuable insights into computing that colleges and the workforce demand.
4) Lowering annual contributions to building-and-maintenance reserves would help keep the levy low. Initially, the district was putting $100,000 a year into the reserves, which today total $476,000. The annual contribution recently was reduced to $85,000 year, and the reserve has since been tapped to pay debt service.
Under this plan, the district would only put $20,000 into reserves annually. Spring says the reserve total could be as low as $300,000 next year. She said that a big boiler or roof repair could wipe out the reserve and then some.
Markwica and board President Bill Conner took turns explaining the recommendations, putting them in the context of past actions and current moves being made by districts in the region or, sometimes, simply empathizing.
Cuts won't hurt students' education or chances at going to college, said Markwica. But, "I can't lie to you. It will impact students," he said in response to a question by board member Mark Richards. "I'm not confident it will all go perfectly."
A day after the meeting, Conner said that the board continues to work toward "a reasonable budget, one that doesn't decimate the program." Johnsburg started paring spending five years ago, he said, and gradually has continued to make cuts.
"Other districts around us are looking at much more drastic cuts," he said.
Vote on this Story by clicking on the Icon