Ticonderoga — Mark Carson was stunned when he stopped in a Ticonderoga convenience store recently.
"They were selling synthetic marijuana, it was right there behind the counter," he said. "It was in shock. This is terrible stuff and shouldn't be sold to anyone."
Carson, who had a family member go through drug treatment, asked the store owner to please stop selling the substance.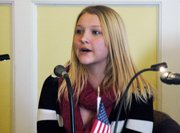 "Drugs are awful," Carson said. "I've see the damage they do. No family should have to go through that."
Doug Terbeek, executive director of the Substance Abuse Prevention Team of Essex County, was not surprised to to hear Carson's story. Sale of synthetic marijuana is common in convenience stores and gas stations in the Ticonderoga area, he said.
"It's around," Terbeek, whose agency is based in Ticonderoga, said. "It's legal, although very dangerous, and easy to get. When we talk to store owners we try to emphasize the dangerous and ask them not to sell it."
Synthetic marijuana is legally available under a number of names — K2, Spice, Kush, Paradise, Demon, Voodoo, Bayou Blaster and others.
The products consist of plant material that has been laced with chemical substances that claim to mimic tetrahydrocannabinol (THC), the primary psychoactive active ingredient in marijuana, according to the Office of National Drug Control Policy.
It's sold as "herbal incense" and labeled "not for human consumption" to avoid Federal Drug Administration regulatory oversight.
That's changing, though, according to Terbeek. He said the state legislature is considering a bill to make the substance illegal.
Until legislation is adopted, Terbeek is urging store owners to stop selling synthetic marijuana.
"Store owners are looking to make a profit," he said. "It may be that they are unaware of the potential dangers. That's something we're working on.
"We want to be friendly neighbors," Terbeek added. "We want to politely ask these folks to stop selling selling it voluntarily."
(Continued on Next Page)
Prev Next
Vote on this Story by clicking on the Icon