continued — Officers for the coming year were appointed and two new board members were named. Named as Officers were Kirk Stallsmith as President; Gerald Morrow as Vice President; Victoria Marking as Secretary; Anne Cutaiar as Treasurer; and Susan LeBlanc-Durocher serving as Past President. The two new board members are John VanNatten of Glens Falls National Bank and Hugh Hill of the Malone Chamber of Commerce.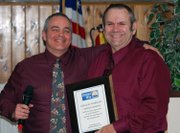 2012 Campaign Chair Gerald Morrow was recognized for his leadership in reaching the anticipated goal for the 2012 campaign during very difficult economic times. Morrow said even he had doubts they could reach the goal after seeing the devastation Tropical Storm Irene had on the region, but he applauded the campaign team, staff and residents for stepping up and making certain that those in need were not left to fend for themselves.
At a time when few United Way Campaigns in New York reached their goals, the Adirondack Region stood out, and Morrow gave all the credit to the campaign team that worked hard and left "no stone unturned" in their efforts to reach the goal. Morrow also pledged his continued support to the 2013 campaign team.
Vote on this Story by clicking on the Icon